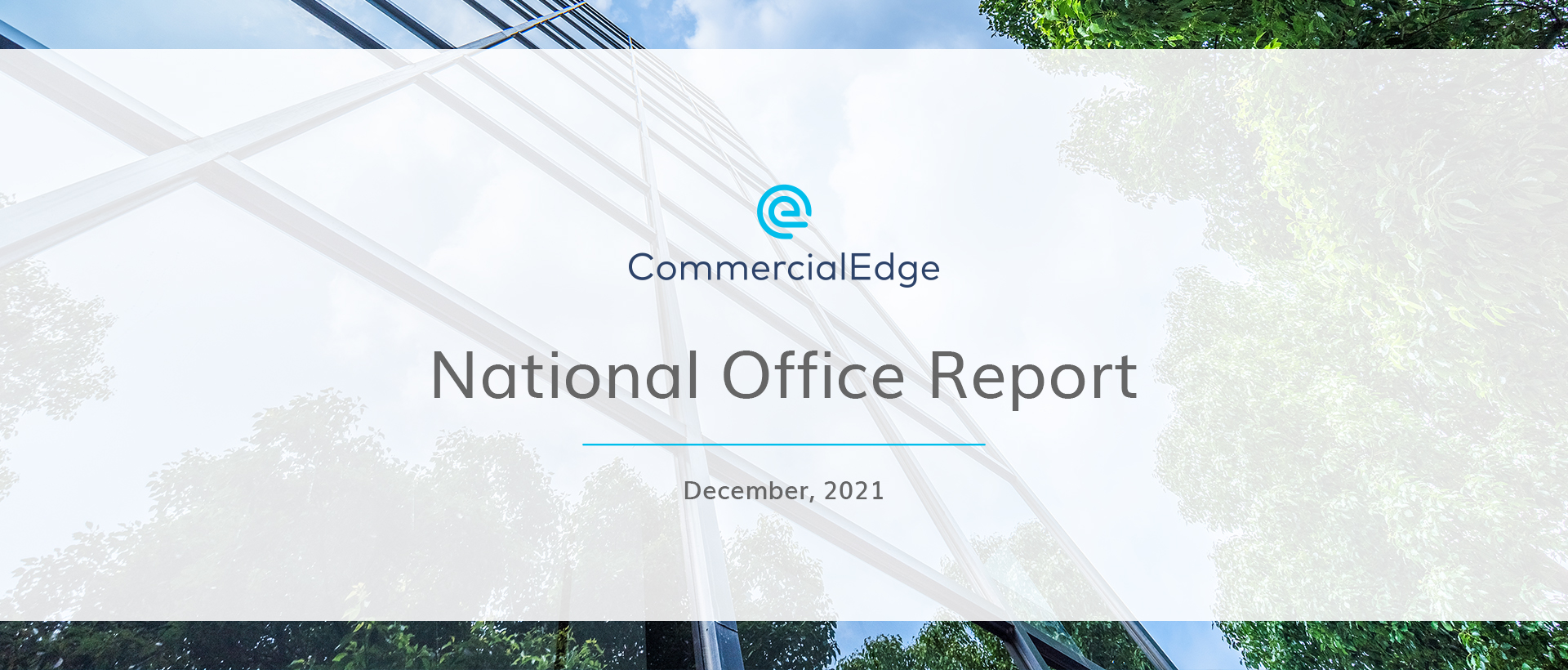 U.S. Office Transactions Overtake 2020 Volume While Vacancies Remain Stable
Key Takeaways
U.S. average office lease rate up 1.2% year-over-year
Vacancies averaged 15.2% across the top 50 markets in November
Office sale prices reached an average of $291 per square foot
Construction pipeline shrinks to 2.3% of total office supply
While the past two years have been marked by ambiguity in terms of remote and on-site work, one solution is revealing itself as increasingly important to the future of office: flex space. A recent CBRE survey revealed that 86% of 77 global companies will include flex space as part of their real estate strategies — but with only 5.6% of office buildings currently featuring such dedicated spaces , owners will soon have to adjust to this new trend to maintain revenue flows.
To learn more about how flex space will shape the future of office, download the full report below.
Average U.S. Office Asking Rent Plateaus at $38.62
Nationally, full-service equivalent listing rates for office space averaged $38.62 per square foot in November. Average asking rents went up by 1.2% year-over-year but remained unchanged compared to the previous month.
In an individual market analysis, Los Angeles office space saw the most significant increase in full-service equivalent listing rates — rents for office space in the southern California market rose by 8.1% year-over-year, averaging $41.62 in November. Meanwhile, listing rates in the Bay Area as well as Tampa registered a 6.2% Y-o-Y rise, resting at $55.79 and $29.70, respectively. Coming in third, the Miami office average asking rent was $43.43 in November, up 5.8% compared to the same period last year.
Office rent growth was slowest in the southern markets of Charlotte and Atlanta. Year-over-year, asking rates for Charlotte office space inched upwards by .5% in November, resting at $29. At the same time, office listing rates in Atlanta ($27.64) saw a .8% uptick.
Vacancies Remain Stable, Average 15.2% Across Top Markets
In November, the U.S. average vacancy rate was 15.2%, rising by 140 bps (basis points) in the past year but dipping by 40 bps in the last six months. The trend is visible across most markets — vacancies overall soared compared to 2020 but then cooled off in the second half of the year.
Notably, the average vacancy rate in Austin (17.3%) is 600 bps higher compared to November last year. However, the surge during the first months of the year was tied to a significant portion of stock coming online — 7.7% of office space in Austin has been delivered since the beginning of 2020. Furthermore, as the office-using sector is quickly expanding in the market, Austin vacancies inched upwards by only 60 bps since May.
Seattle shares a similar trajectory, with a 630 bps year-over-year rise in vacancies since November 2020, but up only 70 bps in the past six months.
Download the full December 2021 report below for updated lease and vacancy rate stats across all major U.S. markets.
2021 Sales Volume Tops 2020; Average Price Reaches All-Time High
Office transactions completed through the end of November amounted to $68.8 billion, already surpassing last year's total volume by 11%. The sales volume in Seattle reached $4.3 billion, crossing the $4 billion threshold, while Chicago, Phoenix and Charlotte are the latest markets to surpass $1 billion in office transactions.
Furthermore, the average sale price rose to an all-time high this year, reaching $291 per sq. ft. in November. Investor confidence in high-quality assets played a significant role in the stable evolution of prices this year, offsetting uncertainties brought on by the pandemic.
Besides surpassing $5 billion in sales by the close of November, Manhattan office space commanded $1,267 per square foot on average, the highest among the top 50 markets analyzed. Meanwhile, San Francisco prices were the second highest, resting at $666 per square foot. Sale prices for office space in Seattle ($558/sq. ft.) and the Bay Area ($523/sq. ft.) follow, claiming the third and fourth spots on the list.
Under-Construction Pipeline Shrinks to 152MSF
Across the top 50 office markets, 152.8 million square feet of office space were under construction by the end of November. However, the pipeline has shrunk by 12MSF since January, as new buildings started construction at a slower pace compared to previous years. Year-to-date, 48.2 million square feet of office stock went into construction, noticeably less than in the previous two years.
Zooming into the market level, the Austin construction pipeline inched up to 10.9% of the total local office stock, the most robust out of the 50 markets we analyzed. Next up, 5.2% of the office space in both Nashville and Boston was under construction in November, while Miami office space was third on the list, with its development pipeline making up 5% of the total stock in the market.
Download the full December 2021 report on performance across U.S. office markets, as well as insights on industry and fundamentals of economic recovery.


You can also see our previous office reports.
Methodology
This report covers office buildings 25,000 square feet and above. CommercialEdge subscribers have access to more than 10,500,000 property records and 325,000 listings for a continually growing list of markets.
CommercialEdge collects listing rate and occupancy data using proprietary methods.
Listing Rates — Listing Rates are full-service rates or "full-service equivalent" for spaces that were available as of the report period. CommercialEdge uses aggregated and anonymized expense data to create full-service equivalent rates from triple-net and modified gross listings. Expense data is available to CommercialEdge subscribers. National average listing rate is for the top 50 markets covered by CommercialEdge.
Vacancy — The total square feet vacant in a market, including subleases, divided by the total square feet of office space in that market. Owner-occupied buildings are not included in vacancy calculations. A and A+/Trophy buildings have been combined for reporting purposes.
Stages of the supply pipeline:

Planned — Buildings that are currently in the process of acquiring zoning approval and permits but have not yet begun construction.
Under Construction — Buildings for which construction and excavation has begun.

Sales volume and price-per-square-foot calculations do not always include portfolio transactions or those with unpublished dollar values.
Stay current with the latest market reports and CRE news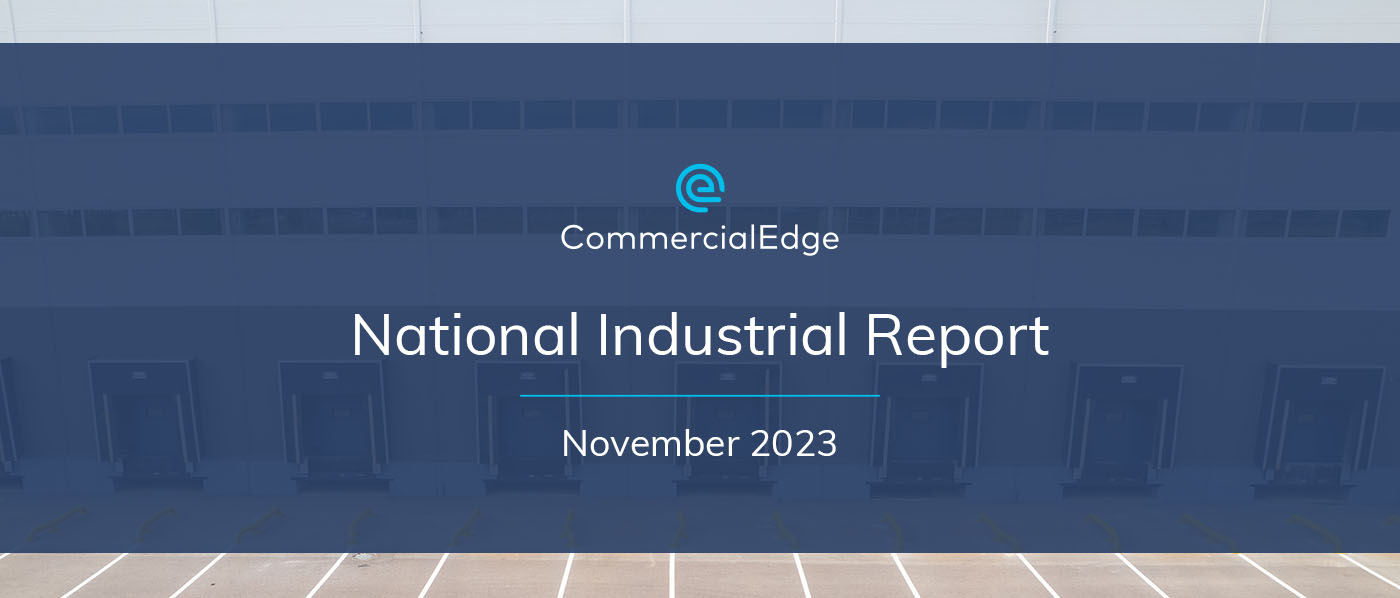 Industrial vacancy rates rose 70 basis points from 3.9% in January 2023 to 4.6% in October but remained unchanged month-over-month.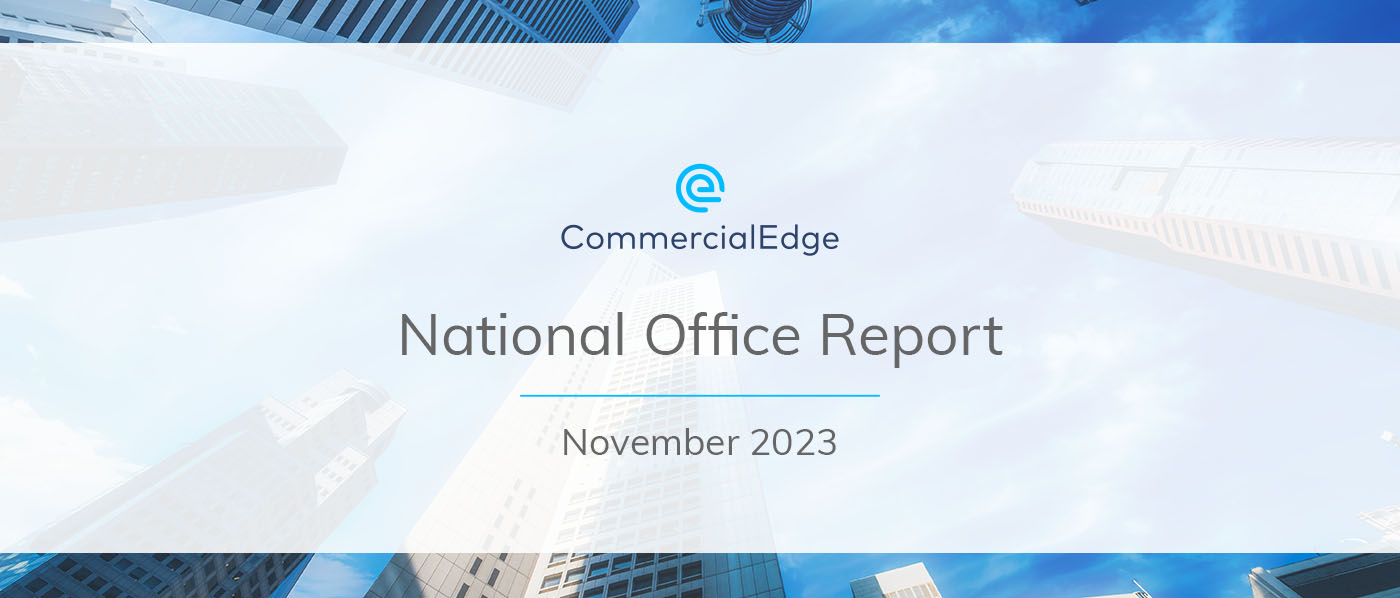 The average sale price per square foot fell 21% Y-o-Y, with properties trading at an average of $198 per square foot through Q3 2023.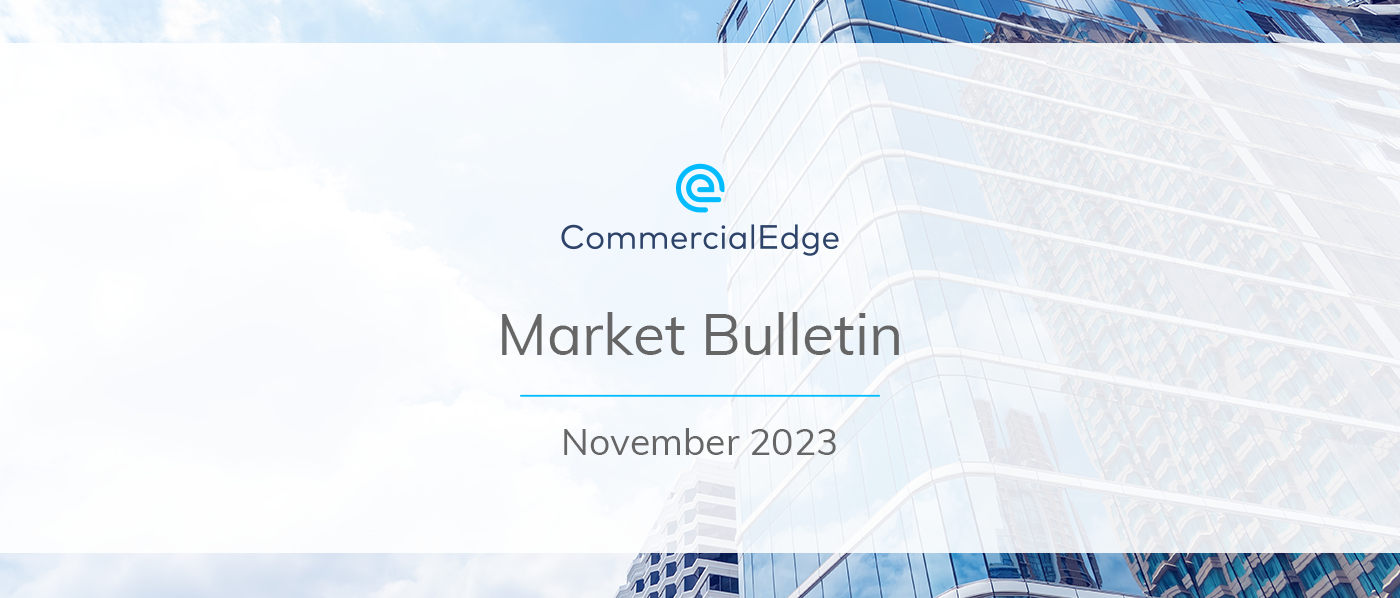 The volume of loan maturities is concerning as weaker demand, rising costs and lower property values squeeze office owners while banks and investors reduce exposure to offices.