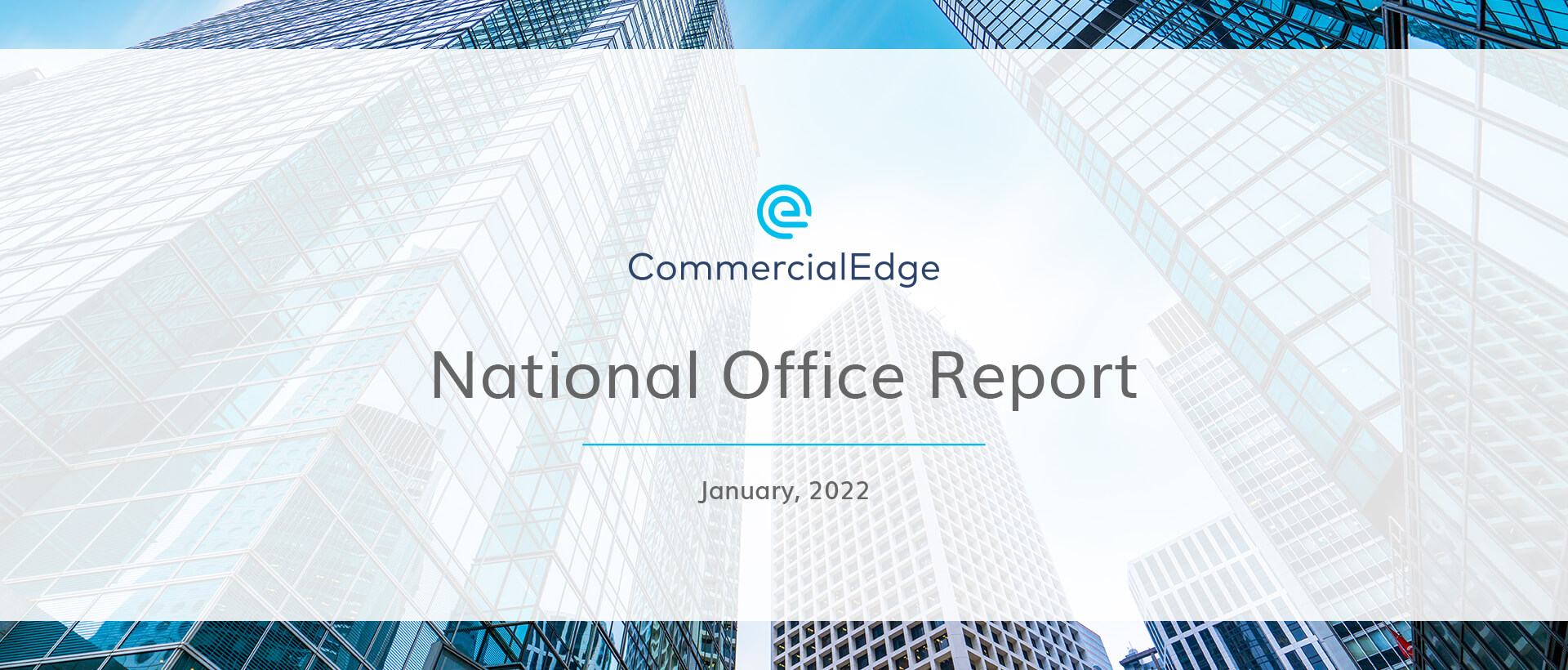 Asking Rates Up 1.8% Y-o-Y as Omicron Further Delays Return to Office
Key Takeaways
December asking rents across top markets averaged $38.44 per square foot.
U.S. vacancy rate held steady at 15.5% across top 50 office markets.
Sales price per square foot reached $293 average in December.
Over 156 MSF of new office space was under construction by end of 2021.
While the summer of 2021 was marked by increased optimism regarding a fall return to the office, the emergence of the Delta and Omicron variants put plans on hold for the foreseeable future. Some large firms are already tightening safety measures (including Goldman Sachs), while others, such as Apple and Google parent company Alphabet, are holding off on announcing plans until the latest wave of infections settles.
What is clear thus far is that a return to office will involve a new model for space utilization. CBRE's Workforce Sentiment Survey revealed that 85% of workers would like to work remotely at least two to three days per week – and with 87% of firms stating they will adopt a hybrid work program of some kind, it seems that employers are willing to meet this increasingly prevalent demand.
To learn more about the latest office market trends, download the full report below.
Office Space Listing Rate Up 1.8% Y-o-Y in Major U.S. Markets
Across the top 50 U.S. markets, full-service equivalent listing rates for office space averaged $38.44 per foot in December, up 1.8% year-over-year (Y-o-Y).
At a market level, the average rent for office space in Phoenix ($30.01 per square foot) grew by 9.5% since December 2020, accelerating compared to the previous months. Atlanta office rents also picked up speed, reaching an average of $29.21 per foot after an 8.1% year-over-year increase. At the same time, the full-service equivalent listing rate in Tampa grew by 7.9%, up to $30.90 per square foot.
Cooler markets include Chicago ($28.19/sq. ft.), where the average office rent inched upwards by 0.9% compared to December 2020, and Washington, D.C., ($41.78/sq. ft.), where leasing rates increased by 1.4%.
U.S. Office Vacancy Rate Stagnates at 15.5%
In December, U.S. office vacancy saw a year-over-year increase of 130 basis points (bps), averaging 15.5% across the top 50 markets. Overall, after a few spikes in the first half of 2021, vacancies plateaued in the last six months.
At the local level, Boston was the tightest market in terms of leasing volumes in December, registering a 10.3% vacancy rate. At the same time, the vacancy rate for Miami office space was 12.5%. The Los Angeles vacancy rate was also lower than the national average in December, resting at 13.2%.
Download the full January 2021 report below for updated lease and vacancy rate stats across all major U.S. markets.
Sales Prices Lag in Commercial Business Districts
The average sale price for office properties across the top 50 U.S. markets climbed to $293 in December as the national sales volume topped $77 billion.
While sales prices for office space in submarkets classified as Commercial Business District (CBD) and Urban (defined as within the city center but outside of the CBD) had similar trajectories following the Great Financial Crisis, the pandemic diverged this trend. As such, CBD prices have fallen since the start of the pandemic, dropping by 19% to an average of $323 per square foot. However, prices in Urban submarkets continued to grow at the same rate, increasing by 28% over the past two years.
Over 156MSF of New Office Space Under Construction
The under-construction pipeline is likely still representative of pre-pandemic trends, as 156.6 million square feet of office space was in development by the end of 2021. But while projects with shovels in the ground are still concentrated in the Urban and CBD submarkets (48.6% and 21.1%, respectively), the planned pipeline paints a different picture. Specifically, suburban markets saw a considerable rise in planned developments – from a share of 35% of the total planned pipeline at the start of 2020 to 48% in 2021.
In an individual market analysis, Austin had the most robust development pipeline in December, 10.6% of its total inventory. Nashville office space follows, with 8% of the market's office stock in construction by the close of the year. Brooklyn registered the third-highest share of office projects under construction, 5.2% of the total space in the market.
Download the full January 2022 report on performance across U.S. office markets, as well as insights on industry and fundamentals of economic recovery.


You can also see our previous office reports.
Methodology
This report covers office buildings 25,000 square feet and above. CommercialEdge subscribers have access to more than 10,500,000 property records and 325,000 listings for a continually growing list of markets.
CommercialEdge collects listing rate and occupancy data using proprietary methods.
Listing Rates — Listing Rates are full-service rates or "full-service equivalent" for spaces that were available as of the report period. CommercialEdge uses aggregated and anonymized expense data to create full-service equivalent rates from triple-net and modified gross listings. Expense data is available to CommercialEdge subscribers. National average listing rate is for the top 50 markets covered by CommercialEdge.
Vacancy — The total square feet vacant in a market, including subleases, divided by the total square feet of office space in that market. Owner-occupied buildings are not included in vacancy calculations. A and A+/Trophy buildings have been combined for reporting purposes.
Stages of the supply pipeline:

Planned — Buildings that are currently in the process of acquiring zoning approval and permits but have not yet begun construction.
Under Construction — Buildings for which construction and excavation has begun.

Sales volume and price-per-square-foot calculations do not always include portfolio transactions or those with unpublished dollar values.
Stay current with the latest market reports and CRE news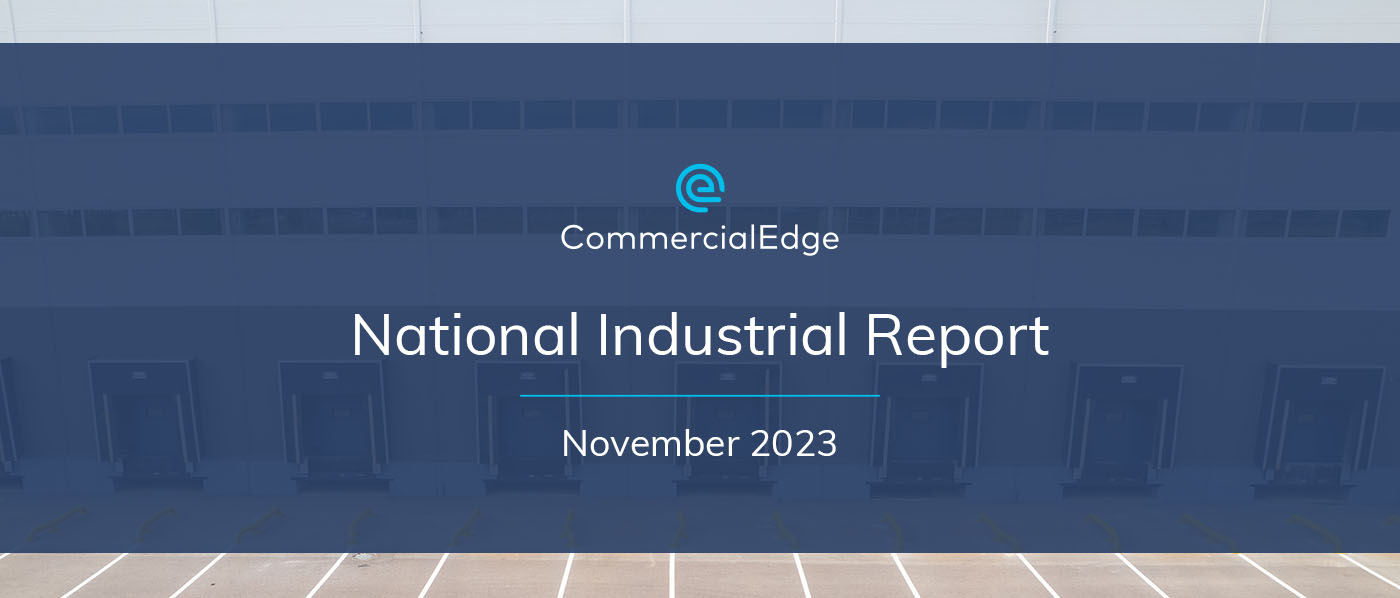 Industrial vacancy rates rose 70 basis points from 3.9% in January 2023 to 4.6% in October but remained unchanged month-over-month.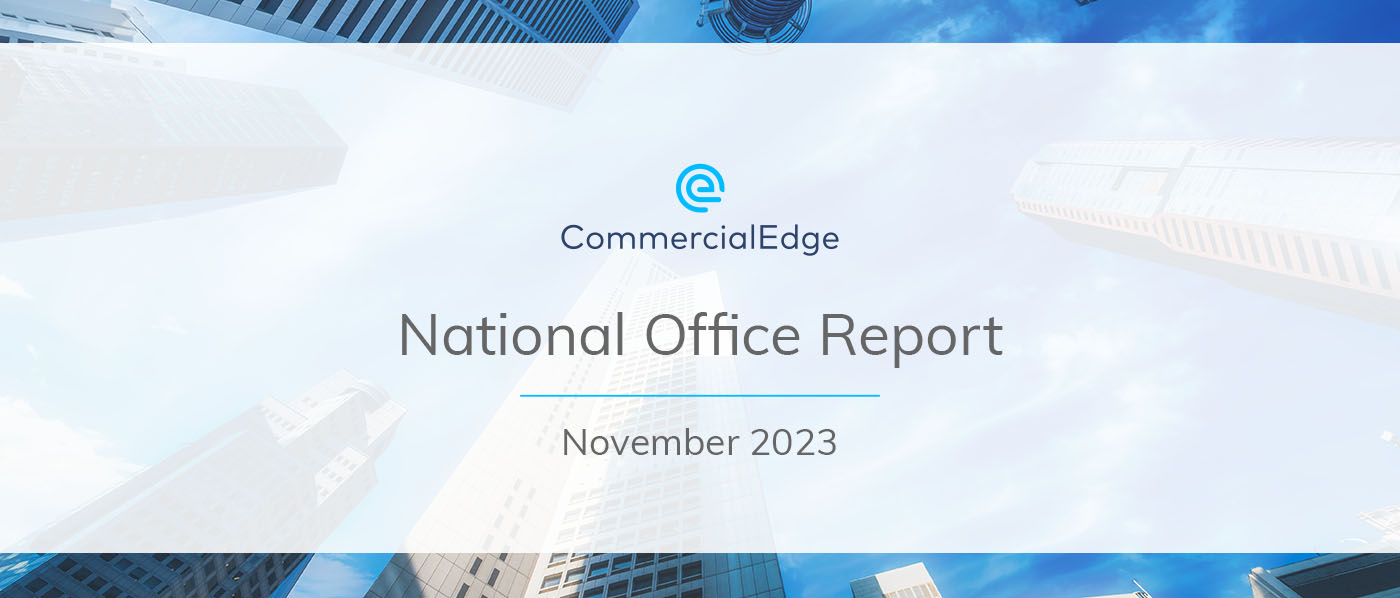 The average sale price per square foot fell 21% Y-o-Y, with properties trading at an average of $198 per square foot through Q3 2023.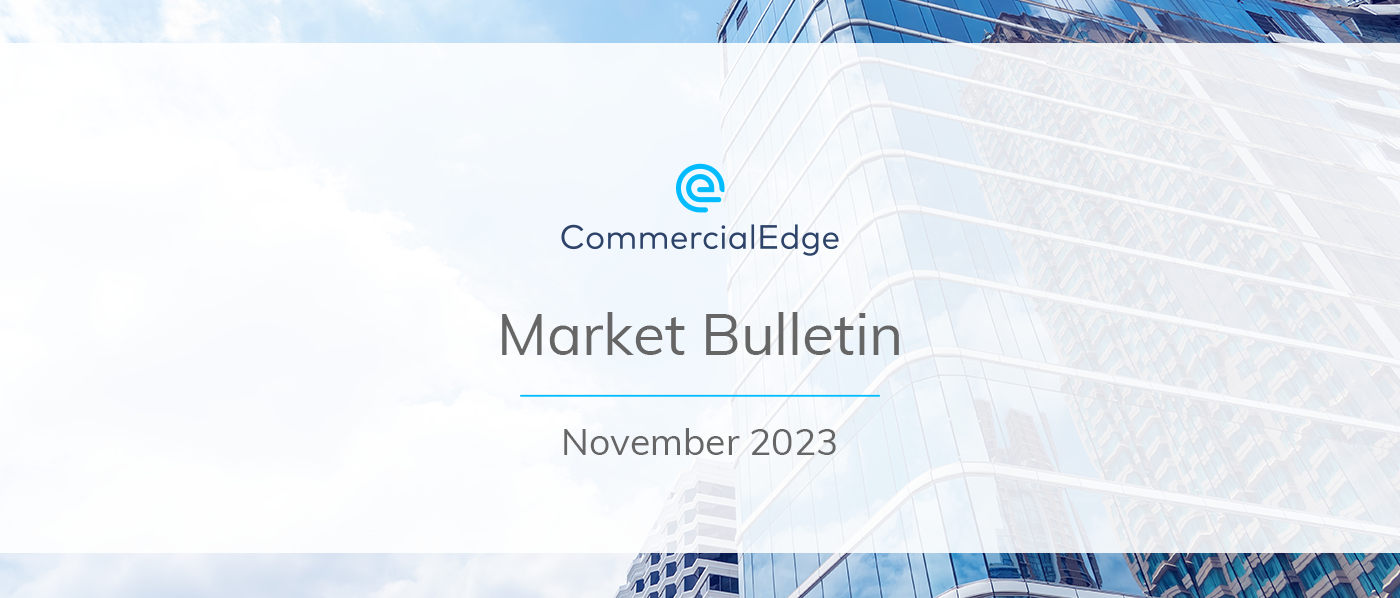 The volume of loan maturities is concerning as weaker demand, rising costs and lower property values squeeze office owners while banks and investors reduce exposure to offices.