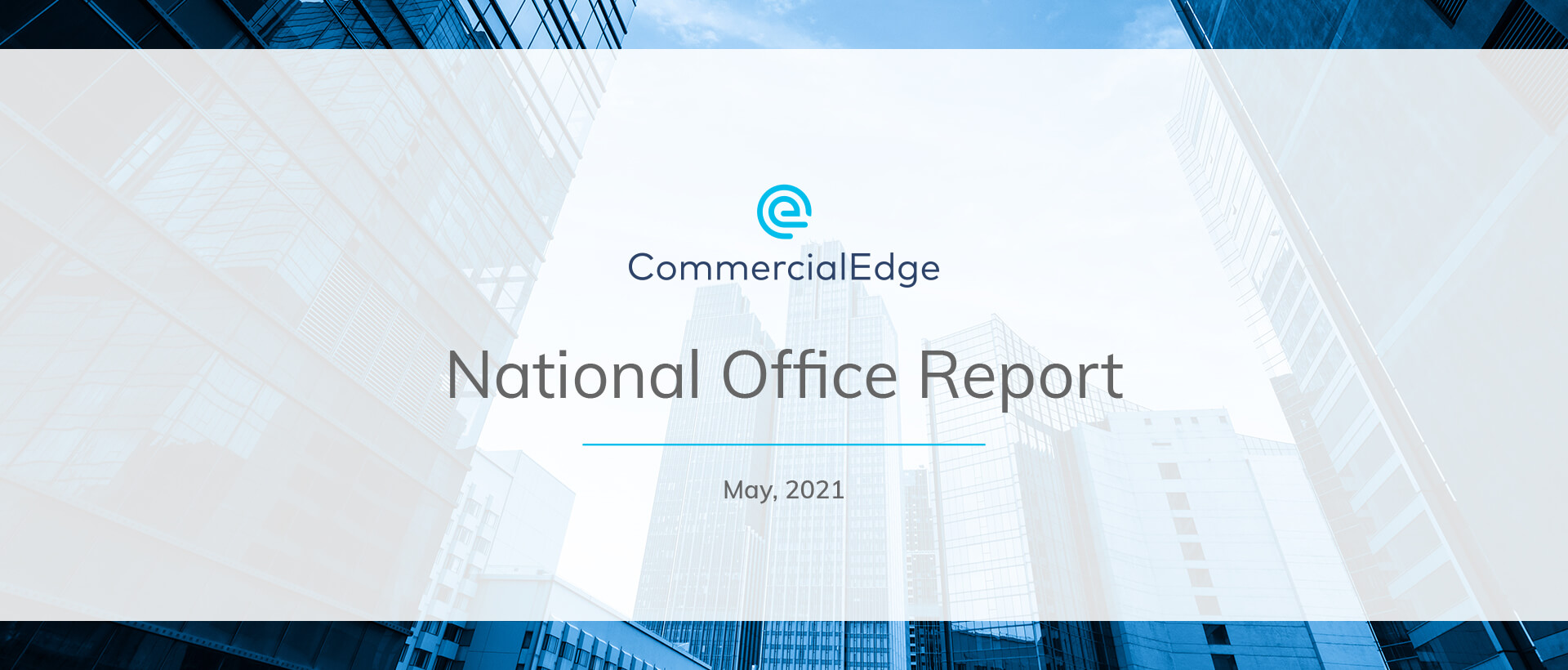 Growth of U.S. Office Lease Rate Stalls, Spikes in Sublease Rates Keep Vacancy Climbing
Key Takeaways
U.S. average office lease rates maintain sluggish upward trend, now up 0.2% year-over-year
Vacancy rate reaches 16% in top 50 U.S. office markets in April
Investment activity based on asset quality drives office sale price per square foot to all-time high
More than two-thirds of office space under construction is focused in urban submarkets
U.S. Office Space Listing Rate Up 0.2% Y-o-Y, Stalls Just Below $40 Per Square Foot
Office rents across the top 50 U.S. markets rested at $38.32 per square foot in April. And, although this marked a slight downward fluctuation of $0.35 compared to the previous month, average listing rates continued inching up along a generally positive trend. Specifically, average full-service equivalent listing rates in April were 0.2% higher year-over-year (Y-o-Y). Furthermore, analysis of individual markets showed average full-service equivalent listing rates span from more than $21 per square foot to roughly $83 per square foot.
In particular, Los Angeles stood out in terms of year-over-year growth, with average rents here ($40.65 per square foot) marking an increase of 6.5% compared to April 2020 — the largest 12-month rise in listing rates among the markets surveyed in the most recent CommercialEdge office report. Not far behind, the second-best performance in this respect was recorded for office space in Washington D.C., where average lease rates were up 4.8% Y-o-Y, resting at $42.22 per square foot. Finally, Boston was a close third with average listing rates rising 4.1% in the last 12 months and settling at $34.42 per square foot, on average.
Meanwhile, corrective changes triggered by last year's effect on the economy at large continued across several markets. For instance, in San Francisco, office space lease rates declined 5.1% Y-o-Y, landing at $68.23 per square foot last month. Similarly, full-service equivalent listing rates in Houston were 4% lower than they were in April 2020.
Download the full report for more details on lease rate trends across all major U.S. markets.
Vacancy Rates Average 16% Across Major U.S. Office Markets
At the same time, office vacancy rates marked a year-over-year increase of 290 basis points and reached an overall average of 16% across the markets we surveyed for this month's report. Granted, this trend had been expected as millions of square feet of new office space continue to hit the market from projects that were already under construction prior to the onset of the pandemic last spring, as well as some leases that have been left to expire as workforce strategy adjustments are still under review.
Worth mentioning, however, are notable spikes in the amount of sublease space available across several large markets. Our latest monthly report found that total available sublease space more than doubled in 20 of the markets analyzed by CommercialEdge. More precisely, the highest sublease rates were found in San Francisco (4.4%), the Bay Area (3.7%) and Seattle (3.7%).
Investors Refine Acquisition Strategies, Drive Price Per Square Foot to Record High
While overall sales volume remains low compared to pre-pandemic investment activity, recent transaction data continues to prove that buyers are not shying away from spending top dollar on high-quality, high-potential office assets. Consequently, sale prices in April reached an all-time high of $304 per square foot, on average. So, rather than be intimidated by the general discourse on economic uncertainty, commercial real estate investors have maintained their focus on identifying and closing the right deals for their acquisition strategies.
To that end, since the beginning of the year, 520 transactions totaling $17.8 billion have closed nationwide. Of course, certain markets carried significantly more weight than others: Notably, office sales closed in the Bay Area accounted for nearly $3 billion of the nationwide total, followed by investment in San Francisco office space ($2.6 billion).
20 Million Square Feet Delivered in 2021; 70% of Projects Under Construction in Urban Submarkets
Of the roughly 75 million square feet forecasted for delivery by year-end, nearly 20 million square feet of new office space has been completed since the start of the year. In total, roughly 162 million square feet of new office stock is currently under construction, 115 million of which is related to projects that are located in central business districts and other urban submarkets.
Moreover, from now through 2025, deliveries of new stock are estimated to continue at more than 50 million square feet per year in 2022 and 2023, followed by a tapering off of new supply beginning in 2024. That's because the effects of the pandemic — driven by changes in work styles and workforce strategies — are likely to result in market adjustments to new office space characteristics and demands.
Download the full May 2021 report on performance across U.S. office markets, as well as industry insights and an analysis of economy recovery fundamentals.

Methodology
The monthly CommercialEdge national office report covers properties that are 50,000 square feet or larger. Listing rate information refers to full-service rates or "full-service equivalent" for spaces available as of the report period. Vacancy reporting includes sublease data. Sales and price-per-square-foot calculations do not always include portfolio transactions or property exchanges with unpublished dollar values. For a detailed methodology, download the full report above.
Stay current with the latest market reports and CRE news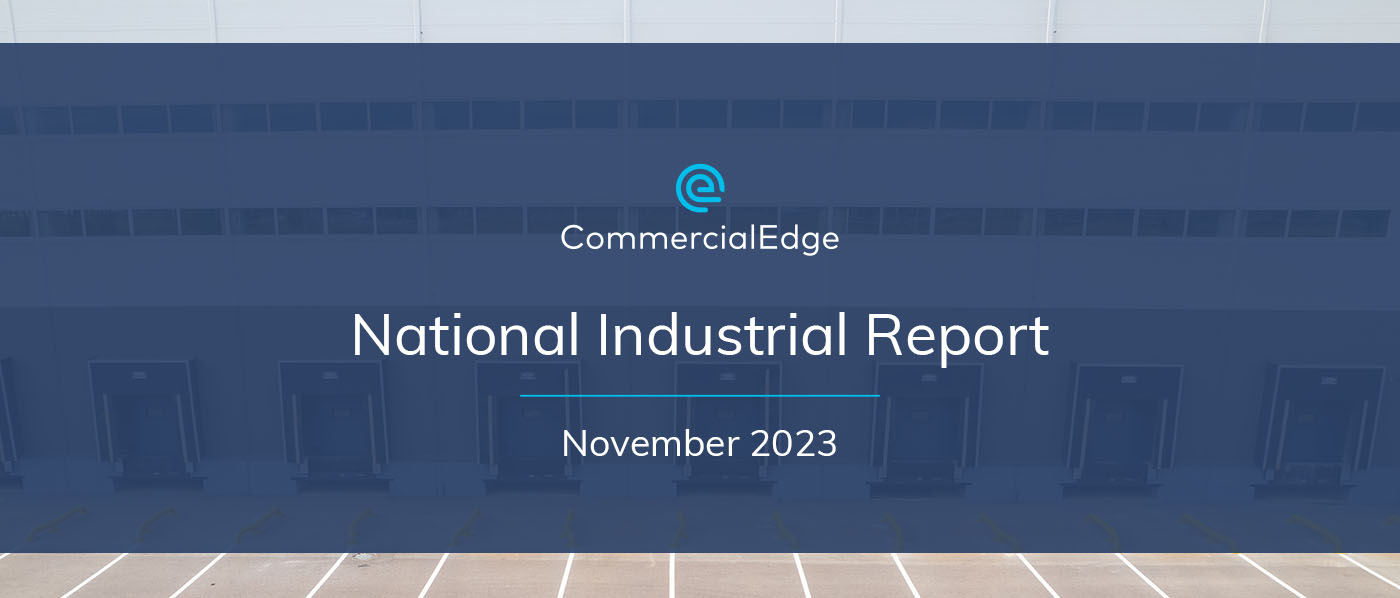 Industrial vacancy rates rose 70 basis points from 3.9% in January 2023 to 4.6% in October but remained unchanged month-over-month.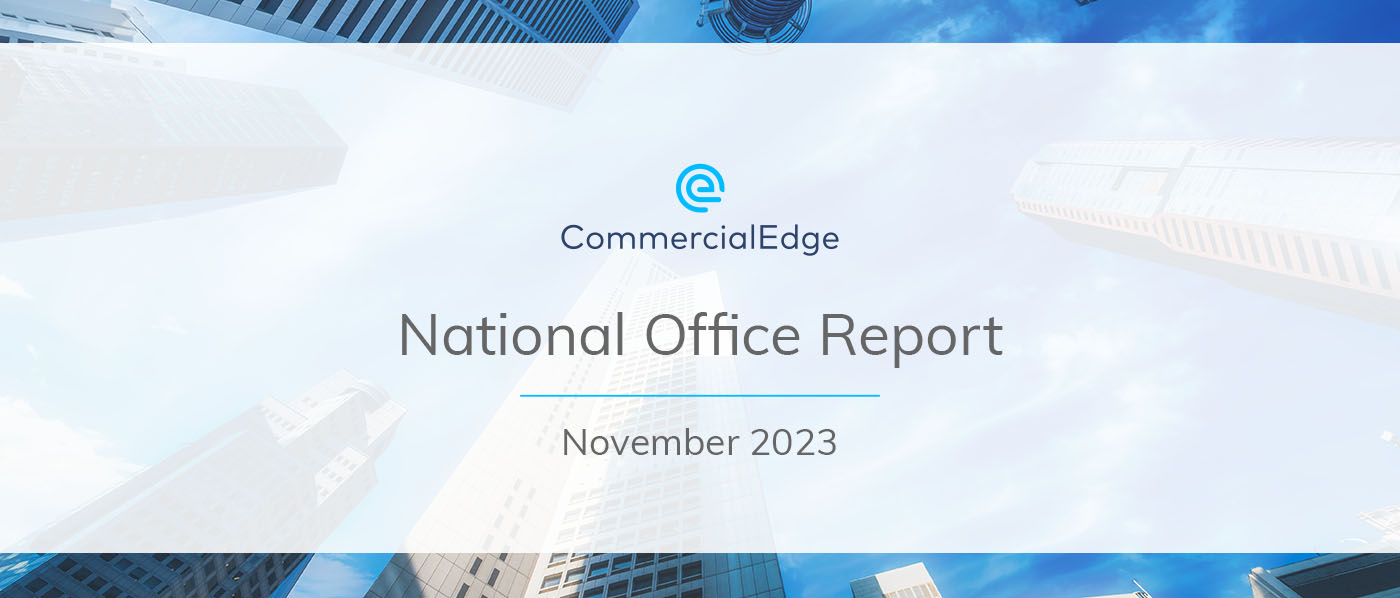 The average sale price per square foot fell 21% Y-o-Y, with properties trading at an average of $198 per square foot through Q3 2023.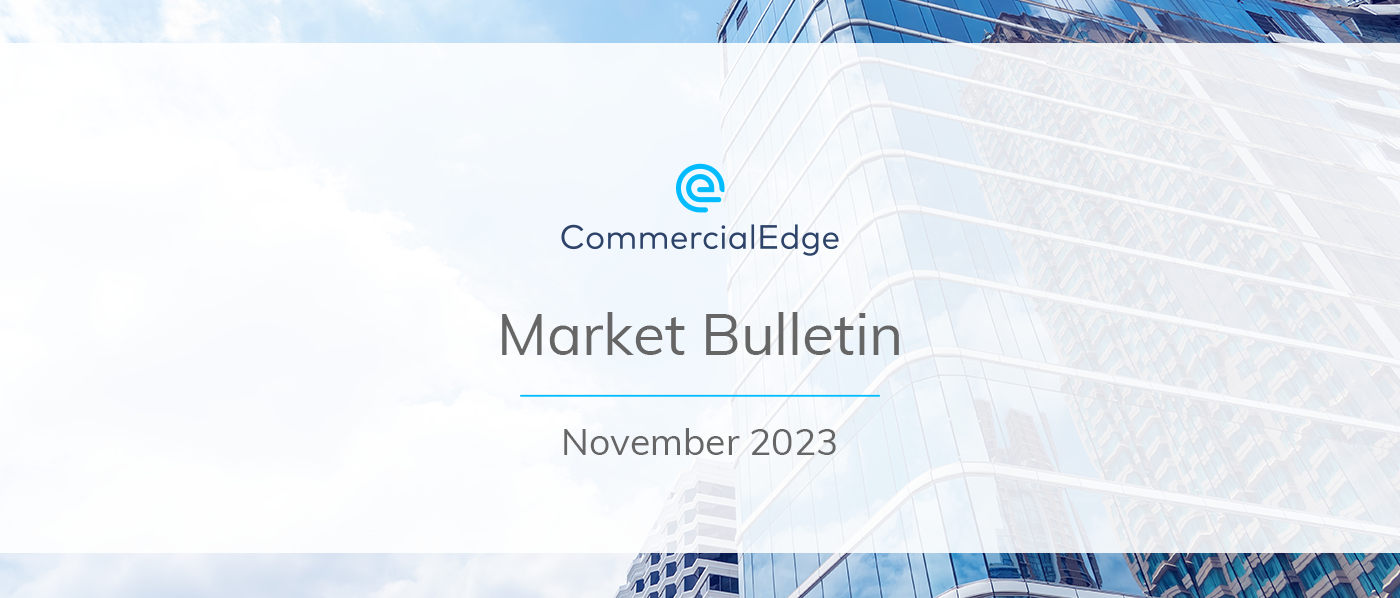 The volume of loan maturities is concerning as weaker demand, rising costs and lower property values squeeze office owners while banks and investors reduce exposure to offices.