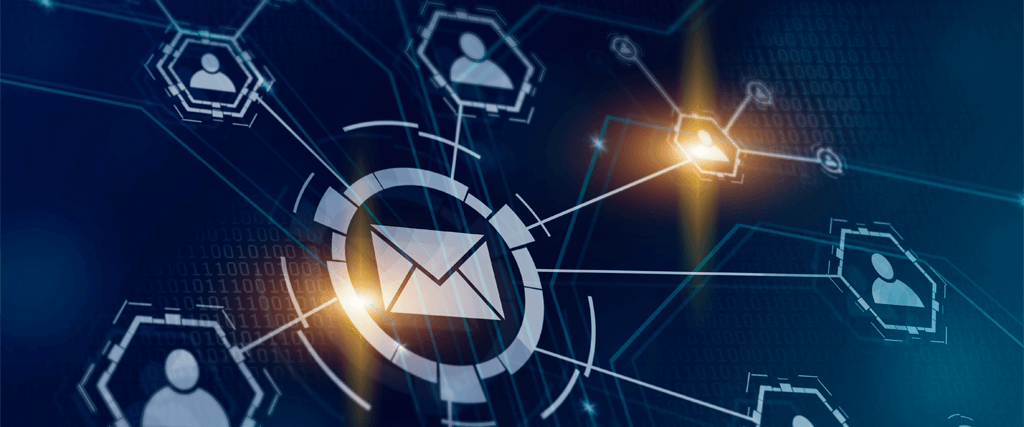 New CommercialEdge Outlook Add-In for Optimized Deal Management and Marketing
Seamlessly integrate deal management and marketing tools within Outlook with the newly developed CommercialEdge Outlook add-in that allows clients to use CommercialEdge Deal Manager and Marketing tools without leaving their inbox. These are the key functionalities:
CRM- and Contact-Level Data Integration
The new add-in transforms email communication by smoothly integrating CRM- and contact-level data within the Outlook interface, providing complete data visibility when writing and receiving emails. This real-time integration ensures you have the necessary context to personalize your interactions, so there is no need to switch between tabs and windows to gather crucial information. All your contact data is in one place.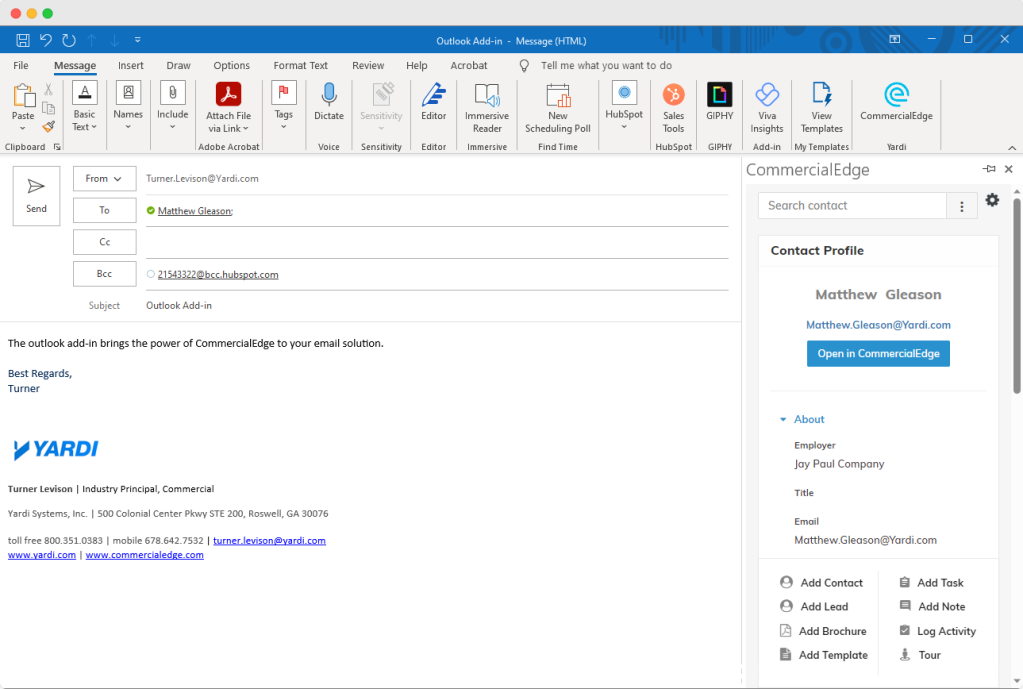 Seamless Contact Management
The plugin makes it easy to add new contacts and leads to the Deal Manager database directly from Outlook. This streamlined process ensures that contact lists are always up-to-date and synchronized between both platforms. Whether it's an existing client or a new lead, a simple click allows for a seamless addition to your contact network.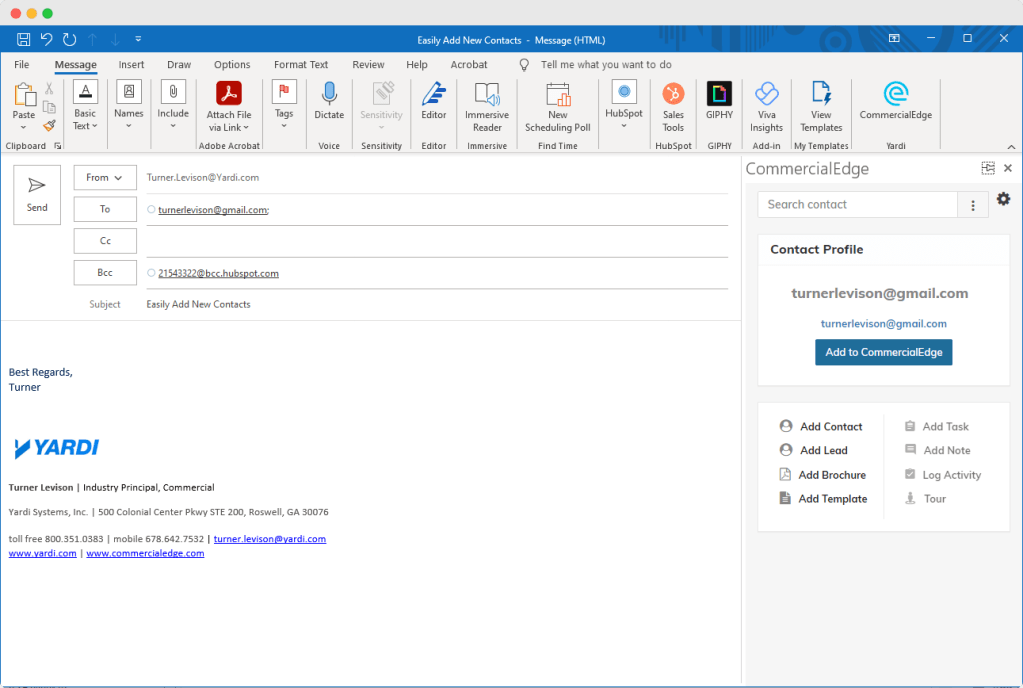 Effortless Task Management and Activity Tracking
The add-in empowers clients to create tasks, record activities and log notes directly to Deal Manager from Outlook. This feature allows for effortless organization and monitoring of daily tasks — every interaction is captured in real-time, guaranteeing that nothing is overlooked. The integration enhances collaboration by enabling clients to stay connected with their team and their clients without switching between applications.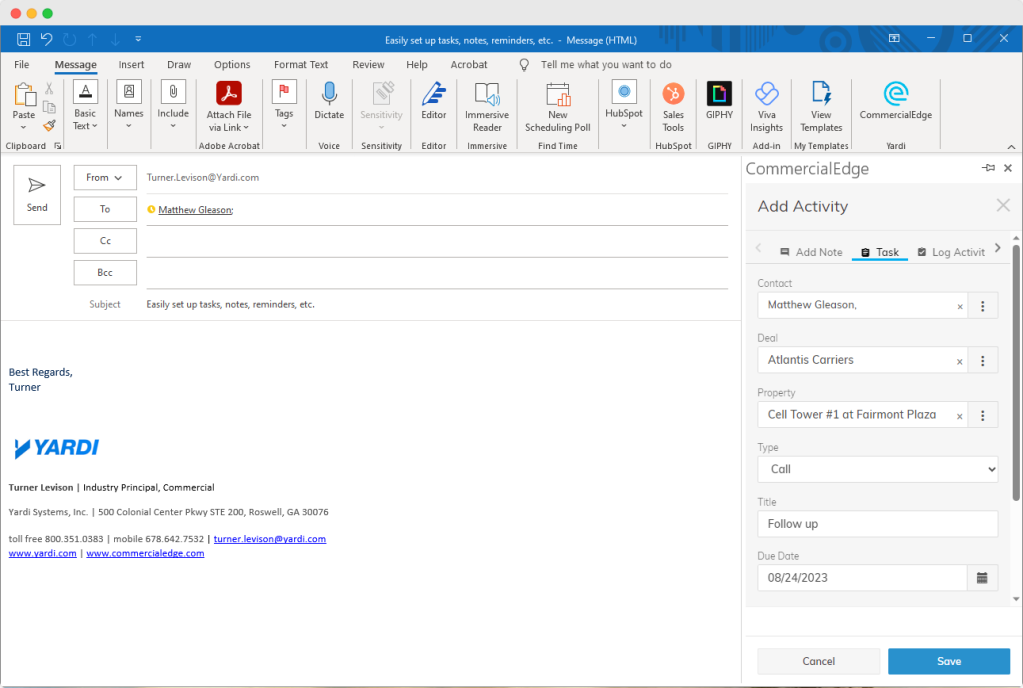 Native Email Template Integration
Craft compelling emails by leveraging CommercialEdge Marketing templates within your Outlook environment. Share up-to-date property, space and availability information through ready-made templates. The time-saving functionality also ensures branding and messaging consistency across all your communications.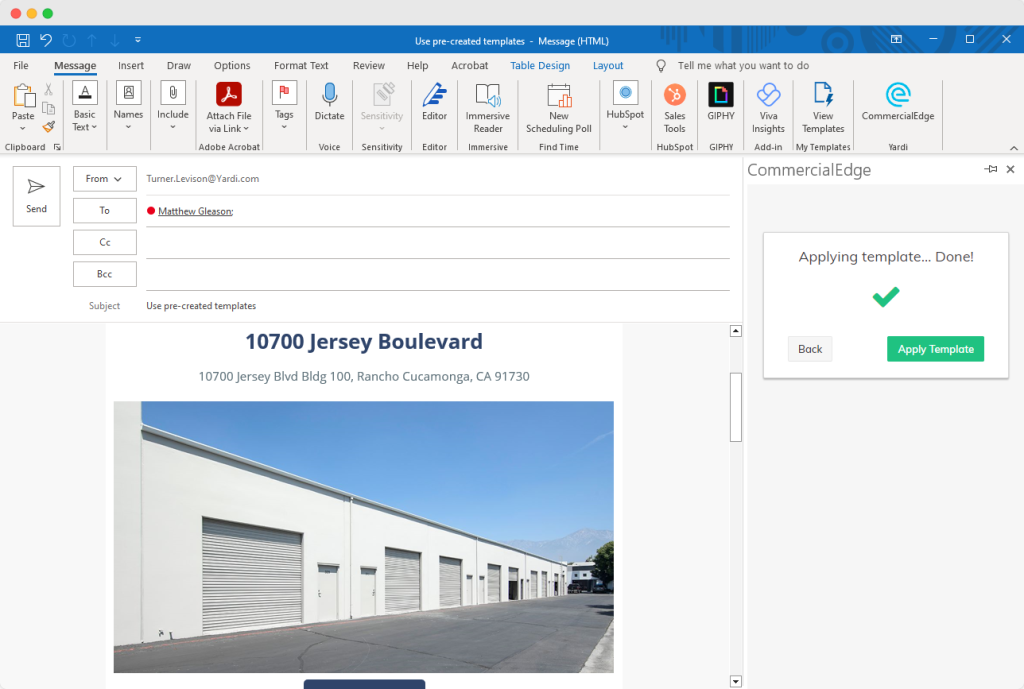 Quick-Add Marketing Materials
Quickly attach CommercialEdge Marketing property and space PDF brochures to your emails directly from Outlook. No need to navigate various databases to find the right files — simply select and attach pre-created brochures that highlight the unique features of each listing.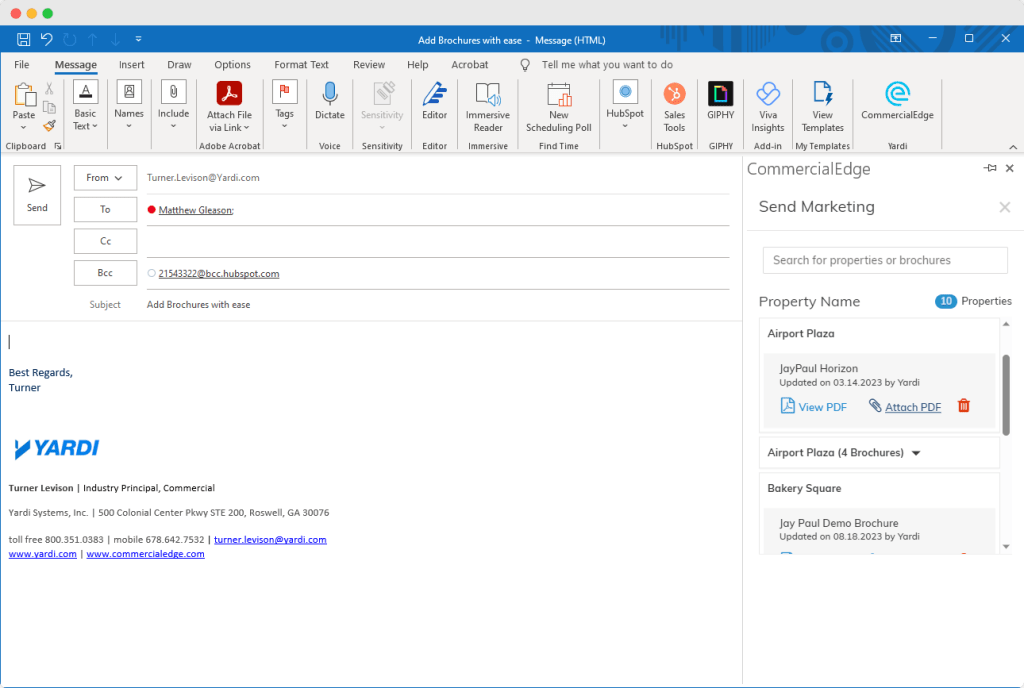 ---
The new Outlook add-in streamlines workflows by eliminating the need to switch between multiple platforms. Leverage the power of effortless communication, enhanced deal management and impactful marketing from your Outlook inbox.

Stay current with the latest market reports and CRE news:
More Articles You Might Like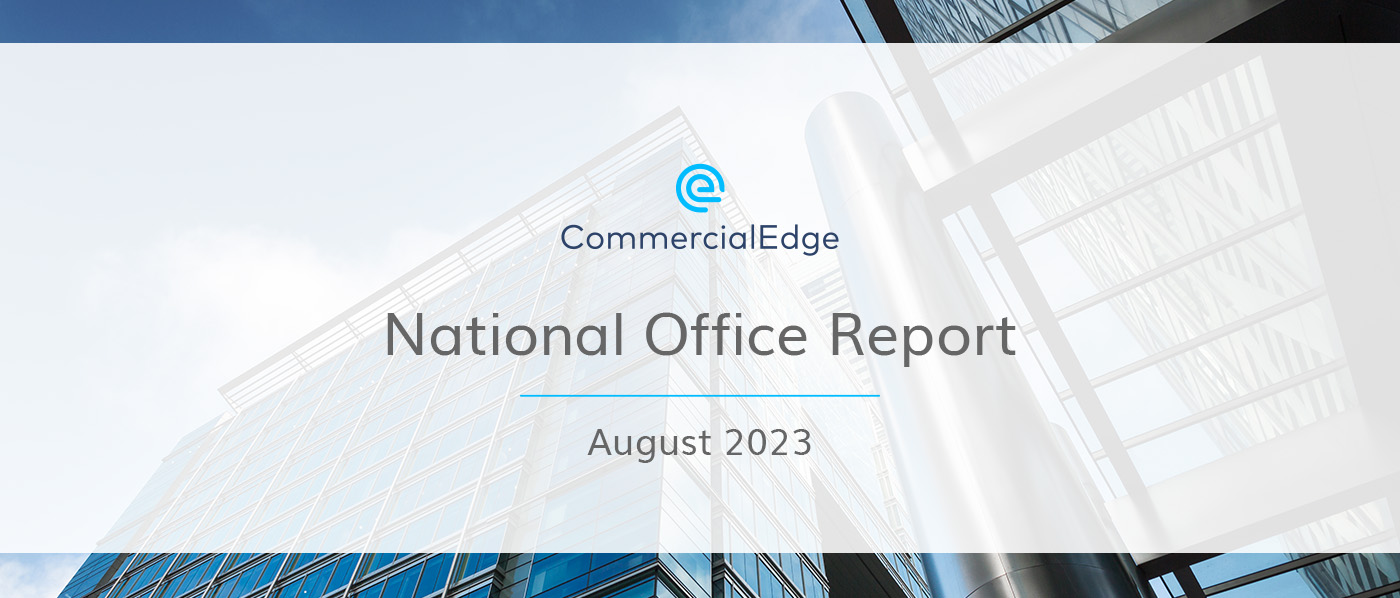 As office construction continues to cool, a quarter of under-construction office space is now concentrated in just 6 life-science-heavy markets.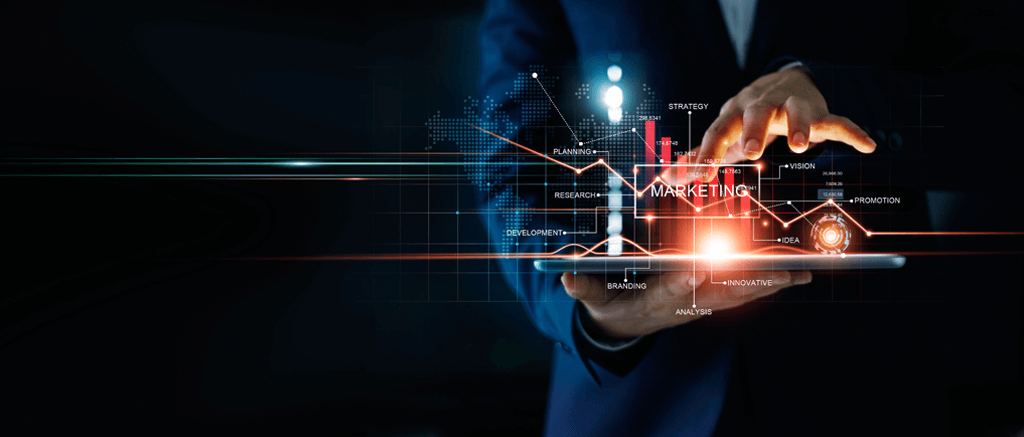 A clear marketing strategy and monitoring channels can result in quality leads, maximum occupancy rates and high return on investments.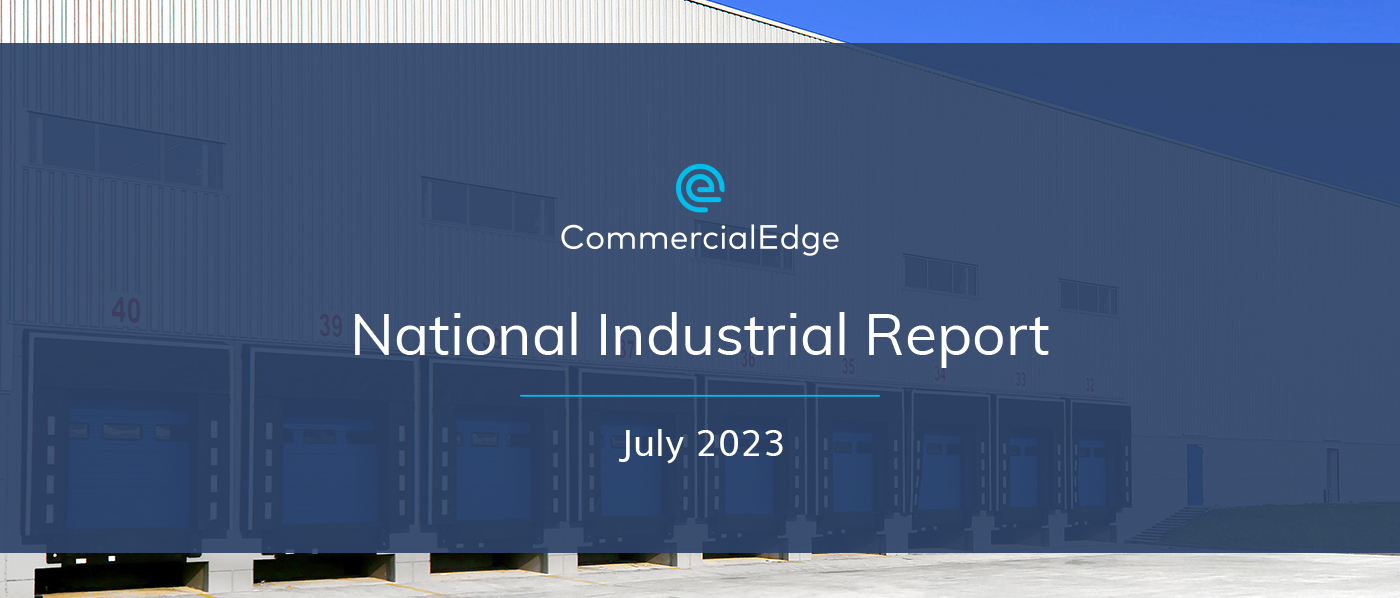 The sales volume dropped significantly compared to the $55 billion recorded during the same period last year.
The End-to-End CRE Solution
From marketing and research to deal management and commission payments, our tools enhance every facet of commercial real estate.