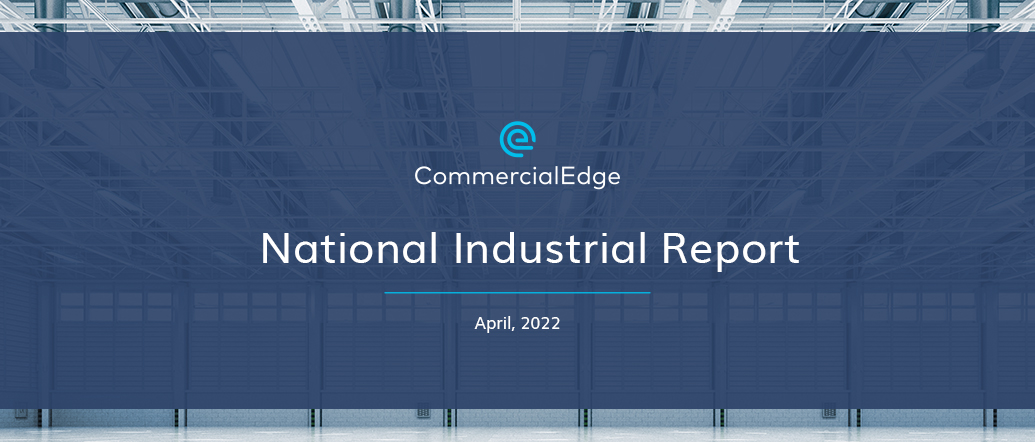 Southern California Industrial Markets Continue to Tighten Under E-Commerce Pressure
Key Takeaways:
The average national rent for industrial space increased 4.4% year-over-year
Vacancies for U.S. industrial space averaged 5% in March
National construction pipeline neared 622 million square feet of industrial space
The average sale price surged 34% Y-o-Y to reach $125 per square foot
The industrial market continues to surge across the country, but nowhere quite as much as in Southern California, where e-commerce demands continue to heat up an already white-hot market. With inventories tighter than ever, a shortage of land for industrial development and major investor interest in the region, Southern California's industrial assets have seen prices skyrocket.
Furthermore, as Southern California's industrial markets struggle to keep up with demand, both developers and tenants are expected to increasingly look to inland markets for their space needs, with some, like Phoenix, already experiencing the effects of this spillover demand.
Read to the end and download the full April 2022 report for updated lease rate and vacancy stats for all major U.S. markets.
New Leases Signed for an Average 13.6% Premium Over In-Place Contracts
The national in-place rent rate for industrial spaces stood at $6.47 per square foot in March, up two cents over February rates and 4.4% higher than March 2021 figures. New leases signed in the past 12 months were 13.6% or 88 cents higher than in-place leases, averaging $7.35 per square foot.
Southern California's industrial boom continued to keep the Los Angeles, Orange County and Inland Empire industrial markets at the top of national rankings both in rent growth and occupancy rates. Specifically, Los Angeles ($10.45) and the Inland Empire ($6.68) recorded the sharpest rent increases, with both appreciating 6.8% year-over-year (Y-o-Y). Orange County was close behind, marking a 5.2% year-over-year hike which lifted its average rent to $11.80 per square foot – the highest figure nationally.
Southern California also recorded some of the highest lease spreads between existing contracts and leases signed over the past 12 months, as opposed to Midwestern markets, where lease spreads between existing and newly signed rents are negligible.
Inland Empire Industrial Vacancy Tightens to 0.7%
While the national vacancy rate for industrial assets rested at 5% in March, marking a monthly decrease of 20 basis points, the strong demand for Southern California industrial space and the difficulties in adding significant amounts of additional space have continued to tighten vacancies.
The Inland Empire posted a miniscule 0.7% vacancy rate while Los Angeles clocked in at 2.1%. Meanwhile, Orange County tied with Miami and Nashville, registering a 3.4% average vacancy rate. As one of the most significant port markets in the country, New Jersey posted a 3.1% vacancy rate, while California's Central Valley rested at a 2.7%.
On the other end of the spectrum, Boston was weighed down by a significant amount of older industrial stock that is incompatible with tenants' current technological demands. This supply has resulted in a fractured market in terms of occupancy rates: While Boston industrial assets developed before 1970 have an average vacancy rate of 18.2%, stock built since 2000 is a mere 3.5% vacant.
Phoenix Prepares to Meet Southern California's Demand Spillover with 41.6 MSF of Industrial Space Under Construction
March closed with 621.7 million square feet of industrial space under construction, amounting to 3.6% of existing stock, with an additional 653.2 million square feet – or 3.8% of existing stock – planned.
As one of the markets that is already experiencing the spillover of industrial demand from Southern California's record tight markets, Phoenix had the highest share of under construction space, with its 41.6 million square feet amounting to 14.8% of existing stock. And the frenzy of industrial development in Phoenix will not cool anytime soon, as projects with shovels in the ground and those in planning now total 34.7% of its existing stock.
However, the largest delivery pipelines were claimed by Dallas-Fort Worth and Indianapolis, which completed 4.5 million square feet and 3.7 million square feet, respectively, of the more than 50 million square feet that came online in the first quarter of the year. Dallas will continue to grab industrial headlines, as its 50 million square feet of under-construction space represents the largest pipeline in the country. Further boosting that pipeline will be the 41.7 million square feet currently in planning stages.
Industrial Sale Prices Surged by More Than 50% in 41 Markets
Q1 closed with $14.8 billion in industrial sales, lower than the $18.6 billion recorded in Q1 2021. However, stemming from the lag between closed sales and their registration, the first quarter of 2022 might still equal or surpass year-ago figures.
From a pricing perspective, the first quarter of this year closed with the average national industrial sale price at $125 per square foot – 34% higher than the same period last year. Not only that, but 41 of the 120 markets covered by CommercialEdge underwent price surges of more than 50% Y-o-Y.
At an individual market level, Chicago, the largest market in terms of square footage, also had the largest sales volume, with 97 deals closed for a total of more than $1 billion. However, so far, Chicago's industrial sector has yet to experience the same pricing surges observed in other markets. Specifically, the average price per square foot inched up 8.6% between 2019 and 2012, while the national average appreciated 33% during the same period.
Download the complete April 2022 report for a full picture of how U.S. industrial markets fared in the first months of 2022, including insights on industry and economic recovery fundamentals.

You can also see our previous industrial reports.
The monthly CommercialEdge national industrial real estate report considers data recorded throughout the course of 12 months and tracks top U.S. industrial markets with a focus on average rents; vacancies (including subleases but excluding owner-occupied properties); deals closed; pipeline yield; and forecasts, as well as the economic indicators most relevant to the performance of the industrial sector. For a detailed methodology, download the full report above.
Stay current with the latest market reports and CRE news: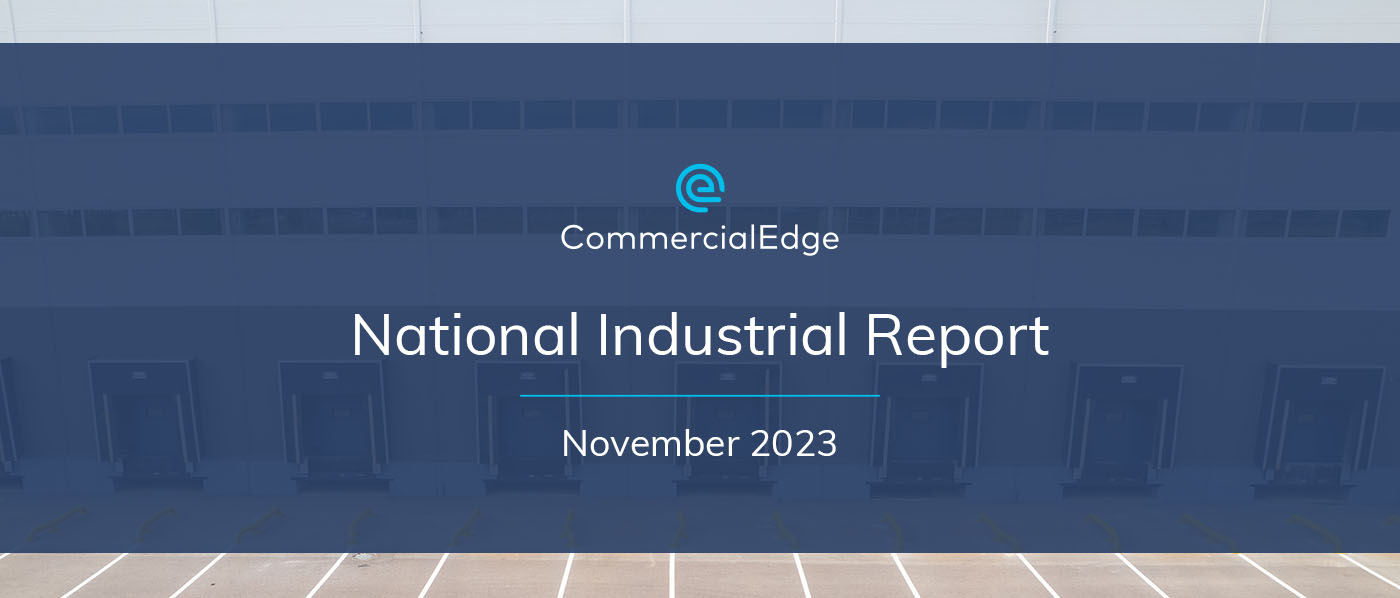 Industrial vacancy rates rose 70 basis points from 3.9% in January 2023 to 4.6% in October but remained unchanged month-over-month.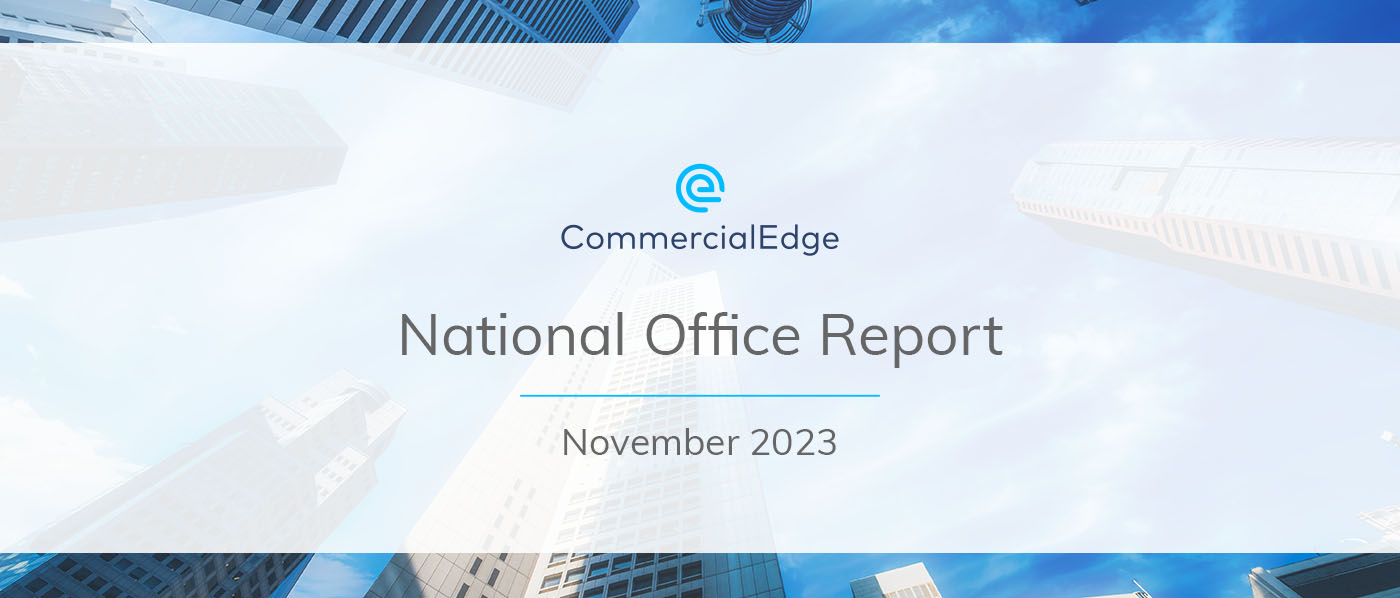 The average sale price per square foot fell 21% Y-o-Y, with properties trading at an average of $198 per square foot through Q3 2023.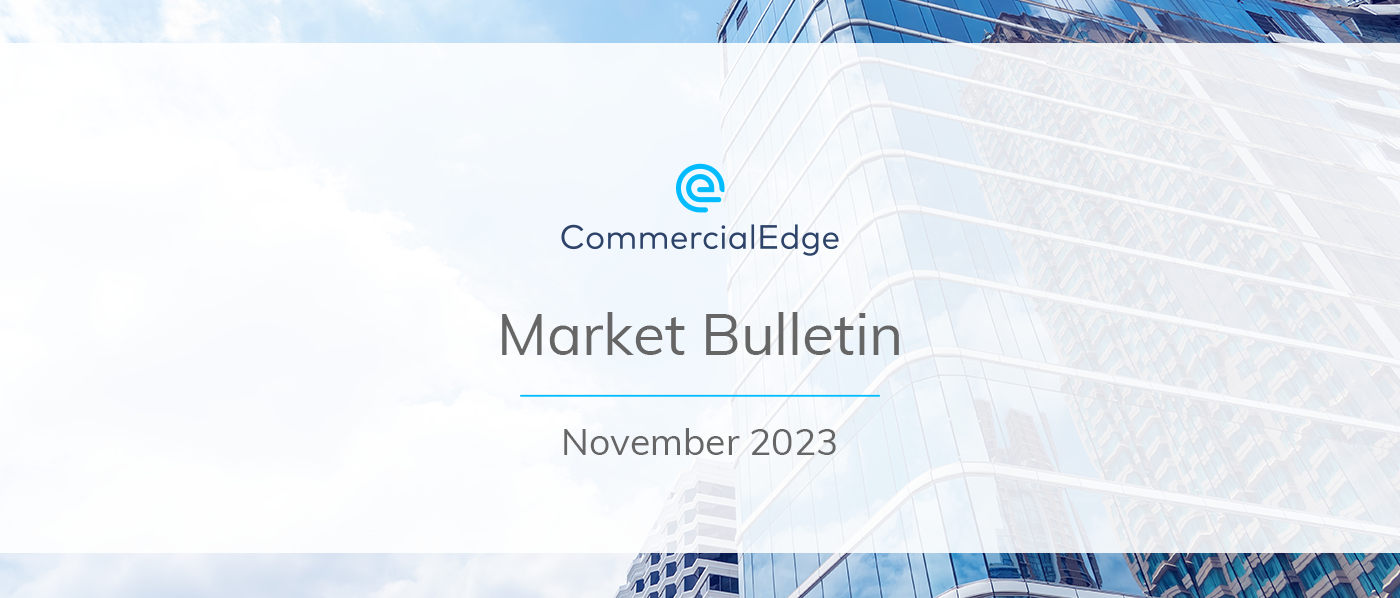 The volume of loan maturities is concerning as weaker demand, rising costs and lower property values squeeze office owners while banks and investors reduce exposure to offices.