Key Takeaways:
The average U.S. office listing rate stood at $38.70, ticking down 0.1% year-over-year
Down 10 basis points year-over-year, the national vacancy rate stood at 14.8%
139.9 million square feet of new office space was under construction at the end of August
The national office sales volume totaled $59.63 billion in the first eight months of the year
Trends & Industry News: Life Sciences Still in Demand
Thanks in part to breakthroughs of mRNA and CRISPR technologies, billions of dollars of funding — both private and public — have been flowing into the life science sectors in recent years. Investors are paying top dollar for lab space, and developers are rushing to bring more to market. While there has been some concern in recent months that rising interest rates and general economic weakness could cause a slowdown in the sector, it has not yet manifested in the sales and supply data.
Life science properties continue to command high sale prices in 2022, with the average facility trading at $645 per square foot, 150% higher than the overall average of $258 per square foot for general office buildings. Buildings that are candidates for lab space conversions can command higher prices, too. DivcoWest bought the 138,400-square-foot 5000 Shoreline Court in South San Francisco for $164.5 million ($1,188 per square foot) and immediately began converting the building into lab space.
Developers are rushing to build in life science markets as supply of lab space lags demand. Including owner-occupied properties, 21.6 million square feet of lab space is underway nationally. Boston currently has 27 projects totaling 8.4 million square feet under construction, followed by San Diego (eight properties, 2.9 million square feet) and San Francisco (10 properties, 2.6 million square feet).
New supply has also been growing in tertiary life science markets. PNB and Montgomery Street Partners announced they will be developing the first speculative life science property in Boulder County, Colorado, with the 365,000-square-foot Coal Creek Innovation Park. S3 Biotech is developing a 2.5-million-square-foot campus in Phoenix that includes life science, medical office and sports science facilities.
A recent CommercialCafe analysis of data from The Bureau of Labor Statistics (BLS) found that in 2021 life sciences employment was highest in Boston (23,900 jobs), New York (18,100) and San Francisco (14,200). The BLS also estimates employment in all science, technology, engineering and math (STEM) occupations, giving a broader look at the number of science and tech workers in a particular metro.
The metros with the most STEM workers in 2021 were New York (515,540), Washington, D.C (364,140), Los Angeles (342,870) and San Francisco (289,960). Metros with the highest STEM jobs as a percentage of all employment were California-Lexington Park, Md. (24.4%), San Jose (22.1%) and Boulder (17.8%).
Listing Rates and Vacancy: Mixed-Use Project in San Diego Drives Up Rates
Across the top 50 U.S. office markets, the average full-service equivalent listing rate stood at $38.70 in August, down 0.1% year-over-year.
Down 30 basis points month-over-month, the national vacancy rate registered a 10-basis-point increase year-over-year, stabilizing at 14.8%.
At the market level, Charlotte has been dethroned as the leader of listing price growth after five consecutive months at the top. Although Charlotte posted a 16.2% year-over-year increase, higher than the previous month's 15.6%, listing prices in Boston accelerated from +12% year-over-year in July to +17.7% in August — the sharpest growth rate nationally. As a result, Boston reached an average full-service equivalent listing rate of $40.58 per square foot.
Listings by Metro Area: September 2022
A market's average listing rates can often reflect the product listed rather than underlying shifts in market fundamentals. Case in point is San Diego, where listing rates have soared 11.8% in the last year, in large part driven by a massive new mixed-use development at the site of a former mall in the Gaslamp Quarter. The Campus at Horton Plaza — claiming to be the largest adaptive reuse project in the country — will cover 10 acres over seven city blocks and include retail, as well as office space suited for both tech and life science firms.
The 100 Building at the campus — a proposed LEED-certified platinum building — recently listed 700,000 square feet of full-service office space at an average of $60 per square foot, which has driven up average rates in the market.
Supply: Mixed-Use Increasingly Prevalent
Nationally, 139.9 million square feet of new office supply is currently under construction.
Due to a change in the way CommercialEdge reports new office development, numbers from this and future reports will not be comparable to previous reports. Previous reports included total building size, but with mixed-used continuing to grow in prominence, reports will now only account for the amount of rentable office space within a property. This change reduces the total amount of office space under construction by 11.9 million square feet (7.5%).
Office Space Under Construction (Million Sq. Ft)
In a handful of mixed-use properties, the amount of office space is a small portion of the total building size. Miami's high-end, 2.3 million-square-foot 1 Southside Park will only have 165,000 square feet of rentable office space to go along with ground-floor retail, 1,175 apartments and a 200-room hotel. In Tampa, 400 Central is including just 45,000 square feet of office in the 1.3 million-square-foot project.
Office Space Under Construction & Planned
Other mixed-use projects under development devote a more significant portion to office space. In Austin, 98 Red River St. will set aside 700,000 of 2.3 million total square feet to office, and roughly half of Sixth and Guadalupe's 1.1 million square feet will be office.
National New Supply Forecast
Transactions: Manhattan Sales Diverse in 2022
CommercialEdge has logged $59.6 billion of office transactions through the end of August nationally, averaging $258 per square foot.
Year-to-Date Sales (Millions)
A wide variety of office buildings are driving Manhattan's sales volume. The trophy tower at 450 Park Ave. traded in the second quarter for $445 million, an average of $1,350 per square foot. Some boutique offices have traded at high values this year, as well. In February, Macquarie Asset Management purchased 375 Broadway, a 56,000-square-foot mixed-use building in SoHo that includes Square's New York offices, for $130 million, an average of $2,334 per foot.
Year-to-Date Sale Price Per Square Foot
Asset Class Price Per Square Foot
Quarterly Transactions (Billions)
Quarterly Transactions Price Per Square Foot
Western Markets: California Leads Listing Rate Increases
San Diego topped Western markets in terms of listing rate increases, with San Francisco listing rates increasing the second-fastest among Western states, up 4% year-over-year, with Los Angeles right on its heels at +3.9% year-over-year. However, San Francisco also saw the highest rise in vacancy rates, coming in 400 basis points higher than year-ago figures, for an August average of 18.1%.
West Regional Highlights
Considering San Diego's massive adaptive reuse project in the Gaslamp Quarter and the city's active life sciences sector, it's no surprise that the metro currently has the equivalent of 4.6% of existing stock under construction, the largest share among Western markets. In absolute numbers, however, the Bay Area has the largest pipeline, with 7.66 million square feet under construction at the end of August.
The Bay Area also posted the largest year-to-date sales volume in the West, totaling $3.16 billion — the fifth highest nationwide. Denver, Los Angeles and Seattle followed close behind at $2.75, $2.73 and $2.5 billion in office transactions, respectively.
San Francisco claimed the highest sales price at a year-to-date average of $881 per square foot, followed by Seattle at $597 per square foot and the Bay Area at $481 per square foot.
Midwestern Markets: Chicago Reaches $2.49 Billion in Office Sales
In the Midwest, both Chicago and the Twin Cities experienced negative growth in listing rates compared to year-ago figures. Specifically, the average listing rate in Chicago shrunk 2.9% year-over-year, stabilizing at $27.33 per square foot, while the Twin Cities closed August at $25.43 per square foot, 5.4% below year-ago rates.
As for vacancies, Chicago and the Twin Cities dealt with opposing trends. Chicago's office vacancy rate increased 130 basis points year-over-year to reach 18.2%, whereas Twin Cities vacancies averaged 12.2% at the end of August — 320 basis points lower than the same period last year.
Although new office developments are under construction in Chicago as well as in St. Paul and Minneapolis, their pipelines are not comparable to those of more active Sunbelt or life science cities such as San Diego (4.21 million square feet), Charlotte (5.75 million square feet) or Austin (8.83 million square feet).
Midwest Regional Highlights
As a gateway market, Chicago's new construction footprint is significantly larger than that of Minneapolis and St. Paul — just over half a million square feet — totaling 2.69 million square feet, or 0.9% of its current inventory. Projects still in the planning stages, however, would account for 6% of Chicago's total office footprint.
Chicago's sales volume amounted to $2.49 billion for the first eight months of the year, the ninth-highest nationwide, while the Twin Cities totaled $787 million in office deals so far in 2022. From a pricing perspective, the Twin Cities had the lowest year-to-date average sale price among the top 25 office markets in the U.S., closing August at $131 per square foot. Chicago's sale price of $189 per square foot was the fourth lowest.
Southern Markets: $3.48 Billion Dallas Office Sales Volume Largest in the U.S.
After being the #1 market for listing price growth rates across the top 50 office markets for five consecutive months, Charlotte was dethroned by Boston in August. However, it remains the leader among Southern markets, posting a 16.2% year-over-year increase. It was followed by Orlando and Miami, where listing rates grew by 7.2% and 5.6% year-over-year, respectively. That lifted Orlando's average listing rate to $23.53 per square foot and Miami's average to $45.54, with Miami's rates the highest in the South.
While Charlotte had the second-highest listing rate increase in August, Miami posted one of the lowest vacancy rates nationwide at 8.6%. Not only that, but Miami also underwent the sharpest drop in vacancies across the top 50 office markets in the country, dropping by 490 basis points compared to the same period last year.
South Regional Highlights
Austin continued as a top performer in new office space development, with under-construction projects totaling 8.83 million square feet, amounting to 10.7% of its existing stock — the largest construction pipeline in the South both by square footage and percentage of existing inventory. Additionally, Austin also had the equivalent of 24.7% of its stock in the planning stages by the end of August.
Dallas had the second-largest construction pipeline in the South by square footage with 7.22 million square feet, representing 2.7% of its stock. Dallas stood out in terms of sales as well, recording $3.48 billion in office transactions by the end of August for the largest office sales volume in the country, with its $194 per square foot year-to-date sales price making that volume even more remarkable. At $3.24 billion, Washington, D.C., was the only other market in the South to surpass $3 billion in sales, while Houston and Atlanta both closed more than $2 billion in office deals year-to-date.
At the same time, Miami posted the highest sale price per square foot among Southern markets, with its year-to-date average coming in at $381 per square foot. Austin and Charlotte had rates in the $300s as well, with Austin's $381 per square foot and Charlotte's $353 per square foot pricing the second and third highest in the Southern office landscape.
Northeastern Markets: Boston Listing Growth Rate Highest in the U.S.
Boston took over as the top office market for listing rate growth nationwide, closing August with a 17.7% year-over-year increase, bringing its average to $40.58 per square foot. Listing rates trended upward in Philadelphia and New Jersey, too, coming in at 4.8% and 3% over year-ago figures. Philadelphia also had one of the lowest vacancies among Northeastern markets, coming in at 12.9%.
Northeast Regional Highlights
Manhattan commanded the highest sales price, with office spaces trading for an average of $901 per square foot, followed by Brooklyn's $533 per square foot rate at a significant distance. Moreover, Brooklyn had the smallest sales volume among leading Eastern markets with just $404 million in office sales year-to-date, outpaced even by Philadelphia with its $988 million total. New Jersey went further, surpassing $2 billion in sales by the end of August, while Manhattan and Boston closed more than $3 billion in office deals in the first eight months of the year.
Office-Using Employment: Growth in Information Sector Slows in San Francisco
Office-using sectors of the economy added 92,000 jobs in the month of August and have grown 4.5% year-over-year.
In San Francisco, the rapid growth in information jobs that fueled the office market has slowed since COVID-19 emerged. While there has been somewhat of an exodus from workers and firms from the high-priced market since the pandemic began, year-over-year growth in the Information sector never went negative, though it has fallen from breakneck to merely solid.
Between 2014 and 2019, the information sector in San Francisco added more than 50,000 jobs, growing at an average annual rate of 15%. Since the start of 2020, the information sector has added 15,000 jobs, an average annual rate of 5.8%. Tech firms in the city are hiring at a slower pace, and the largest driver of office employment in the market is now the professional and business services (PBS) sector. PBS jobs have grown at a higher rate in San Francisco than information for all of 2022, which had not occurred since 2013.
Office-Using Employment Growth by Sector
Download the PDF report to view more charts, including quarterly transactions and sales prices at the asset class level.

You can also see our previous office reports.
Methodology
This report covers office buildings of 25,000 square feet and above. CommercialEdge subscribers have access to more than 14 million property records and 325,000 listings covering a continually growing list of markets.
CommercialEdge collects listing rate and occupancy data using proprietary methods:
Listing Rates — Listing Rates are full-service rates or "full-service equivalent" for spaces that were available as of the report period. CommercialEdge uses aggregated and anonymized expense data to create full-service equivalent rates from triple-net and modified gross listings. Expense data is available to CommercialEdge subscribers. National average listing rate is for the top 50 markets covered by CommercialEdge.
Vacancy — The total square feet vacant in a market, including subleases, divided by the total square feet of office space in that market. Owner-occupied buildings are not included in vacancy calculations. A and A+/Trophy buildings have been combined for reporting purposes.
Stages of the supply pipeline:

Planned — Buildings that are currently in the process of acquiring zoning approval and permits but have not yet begun construction.
Under Construction — Buildings for which construction and excavation has begun.

Sales volume and price-per-square-foot calculations for portfolio transactions or those with unpublished dollar values are estimated using sales comps based on similar sales in the market and submarket, use type, location and asset ratings, sale date and property size.
Stay current with the latest market reports and CRE news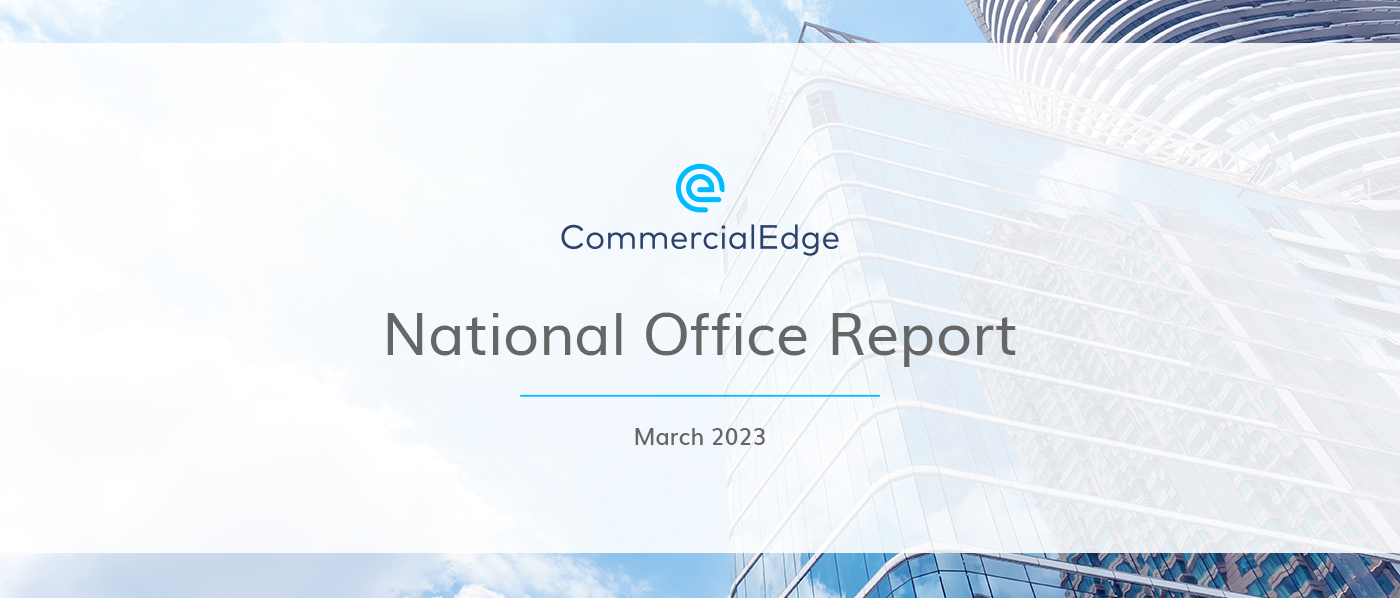 With weak demand and high interest rates, refinancing offices will be challenging unless they include solid leases with high-quality tenants.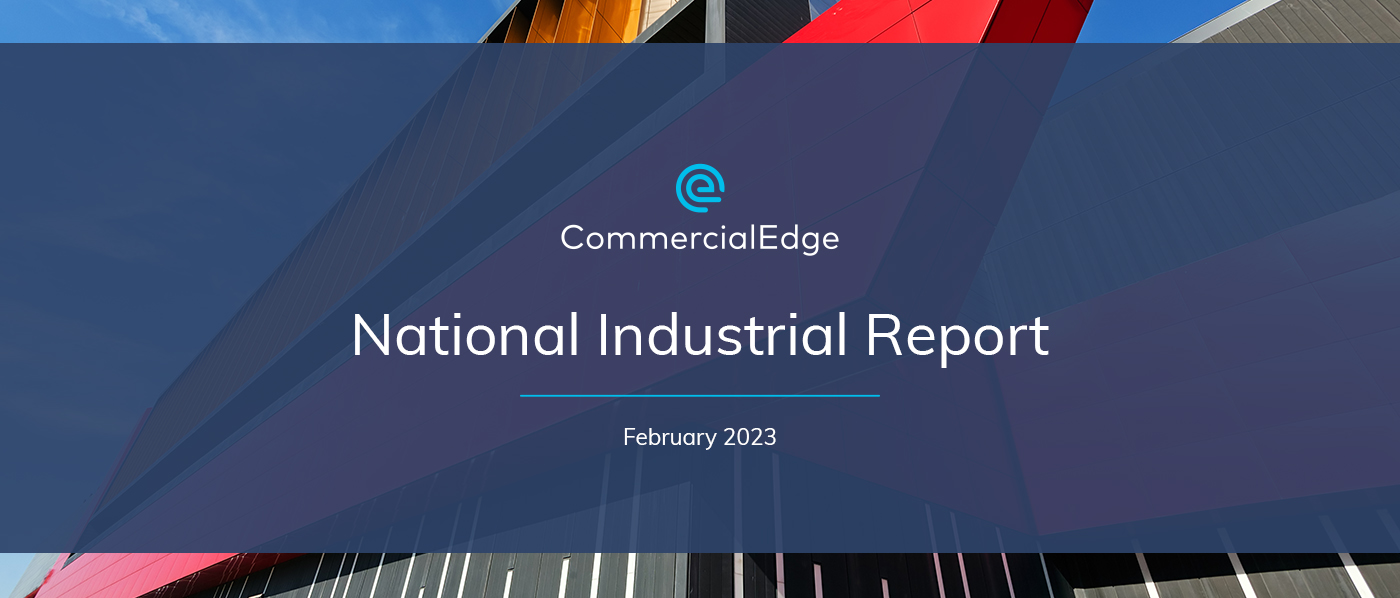 Industrial leases signed in the last 12 months reached a national average of $9.01 per square foot, $1.88 more than in-place contracts.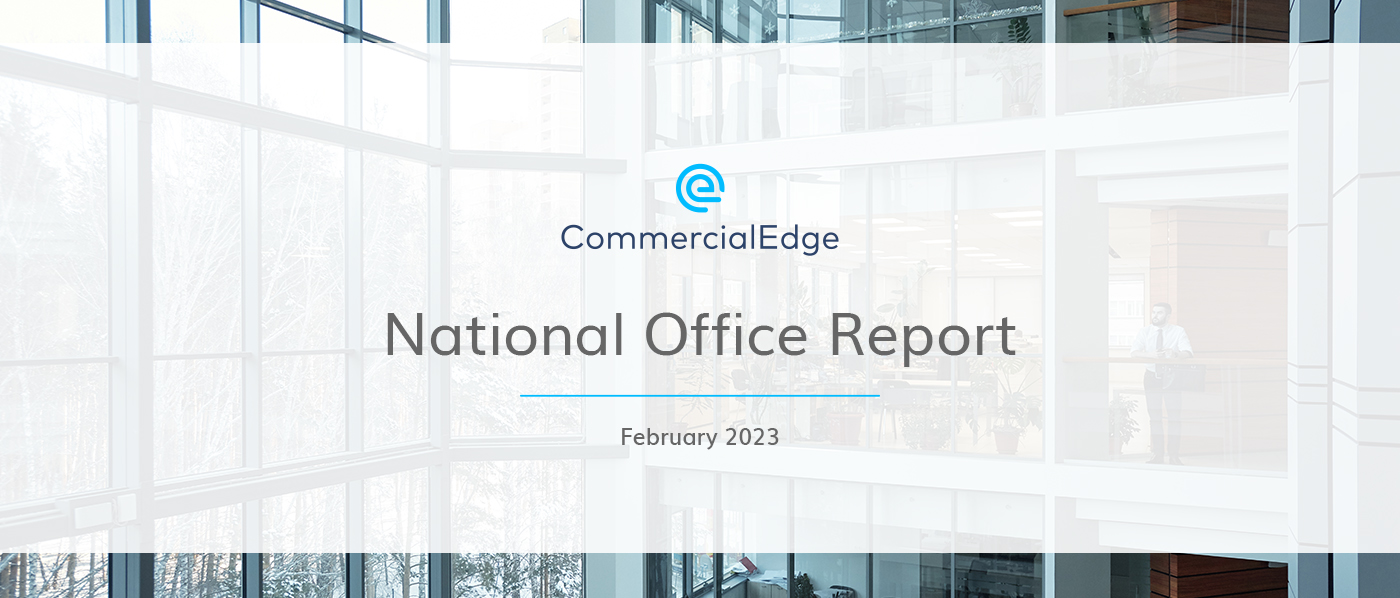 Amid economic uncertainties and vacancy woes, the sector is expected to record one of the smallest sales volumes since the Great Recession.