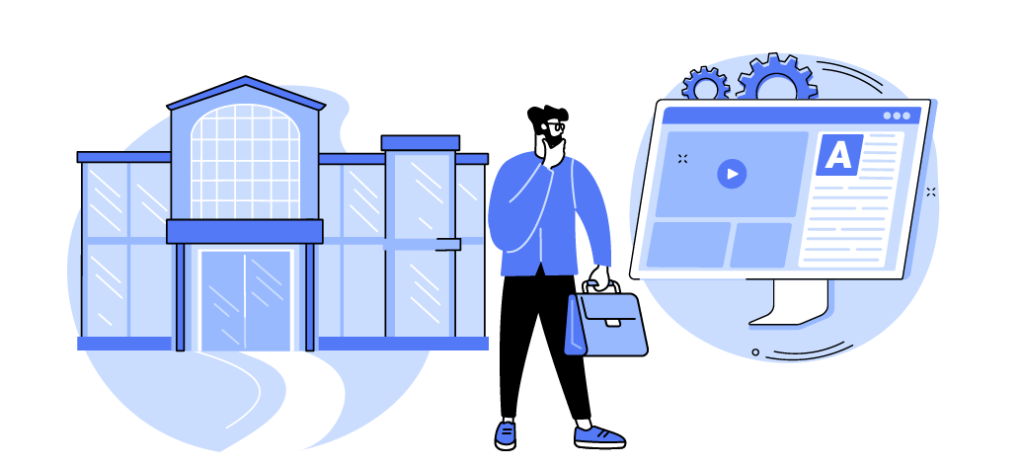 The Complete Guide to Creating CRE Listings That Convert Leads  
As buyers, tenants and their representatives now use the internet to perform their own property research, they will evaluate and dismiss a swath of commercial listings before contacting a representative. To stand out in a crowded marketplace, you need to fine-tune your marketing materials and use diverse distribution channels to get in front of quality leads — especially as both tenant and buyer needs are shifting with the pandemic.
From writing high-conversion copy to capturing the perfect visual elements and ranking higher in search engines, here's the complete guide to creating commercial real estate (CRE) listings that convert.
Provide Valuable Information
Buyers, tenants and reps have clear outlines for their needs, so include detailed, accurate specifications in all your commercial listings. Unlike residential prospects, those seeking commercial spaces will first check property and space characteristics before reading through the rest of the page, starting with a brief assessment of whether the space fits their core needs.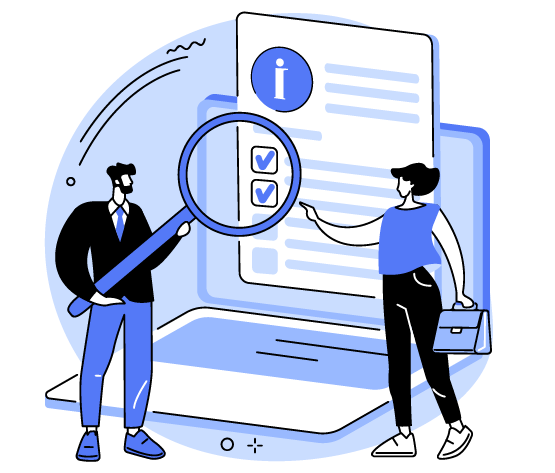 To ensure these key specifications are easy to parse, list them in the dedicated info boxes rather than the listing description. Of course, if the platform you're using is missing data points you think are essential in the early stage of decision-making, use the blurb to fill in the gaps.
Essential information
• Price or leasing rate
• Location
• Available date
• Building class
• Building certifications
• Property type and tenancy
• Overall size and available space
• Average floor size and number
• Proximity to transportation options
• Parking information
• Year built and/or renovated
• Space type and divisible space
• Lease type, renewal options, sublease option
• Opportunity zone
• Electric, lighting and fire suppression systems
• HVAC systems
Some marketing experts argue that you should keep a few details gated to acquire more leads, but the aspects above are vital to ensuring you connect with quality prospects who have a high chance of converting.
Services, amenities and highlights
In today's competitive market, commercial listings should highlight every benefit a tenant might want or need. List all the amenities and services available, from basics such as internet connectivity and meeting rooms to more substantial benefits such as wellness rooms, day care centers or private outdoor spaces.
Furthermore, consider adding a section dedicated to building highlights in your website listing format. Some marketplaces already offer this option (including those in the CommercialEdge Listing Network) because they're a highly efficient means of showcasing the best features of a space memorably. People read and remember bullets faster and more easily than they do blocks of text, so use this is an opportunity to highlight features such as:
• Flexible lease lengths, terms and rates
• Flexible space usage
• Natural light and striking views
• Important nearby landmarks
• Interesting architectural characteristics
• Luxury features such as premium construction materials
• Neighborhood features and demographics
• Streamlined workspace management apps or tenant portals
Enhanced contact details
Besides including your name, firm, phone number and any relevant email addresses, add a well-lit headshot to your profile whenever you're given the option. Prospects are more likely to communicate openly and warmly if they can put a face to the person. Even if you don't have a professional headshot, you can go a long way with just your phone and an internet search for amateur portrait photography.
Showcase Properties With Enhanced Visuals
Visuals that convert leads not only offer information but tell a story. A remarkable CRE listing requires high-quality, descriptive imagery that expertly communicates the unique value of a property.
Upgrade your photography
Investing in professional photography should be at the top of your priority list when it comes to expenses. However, if you're short on time or budget, showcasing a space through outstanding visual elements is achievable if you keep in mind a few key details.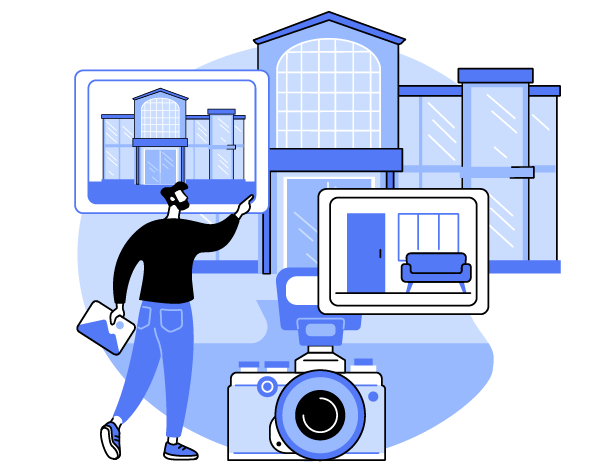 Regardless of the situation, make sure you cover all the aspects of a space and upload high-resolution images. You'll need several wide presentation shots of the outside of the building and its location, as well as diversely angled pictures of most of the indoor spaces.
When it comes to the photos themselves, consider these universal rules to pinpoint the proper context and elements to include in your listing:
Pick the best light and time of day: Take the time to visit the building and space at different times during the day to see when the light highlights its best features. You might discover that a particular time of day is best for outdoor shots, and another is well-suited for indoor photos.
Stage both outdoor and indoor spaces: Staging is just as necessary in commercial real estate as in residential, so cleaning and decluttering are vital. For example, rearranging furniture or bringing in a few pieces can make a world of difference for office photography. At the same time, outdoor photos shouldn't include cars, out-of-place items (such as food stands or maintenance equipment) or crowds in front of the building.
Won't be using a professional service? These easy tips and tricks will elevate your photography instantly:
Be mindful of green spaces and seasonality: Outdoor photos will look better on a bright day and if they include some vegetation. Furthermore, if you have to take photos during the winter months, replace them as soon as possible with ones taken during warmer seasons.
Let vertical lines guide you: Framing can be challenging when a property's size and location make it difficult to find the perfect angle. A good rule of thumb is identifying the central vertical lines in the composition and ensuring they're straight and parallel.
Use the rule of thirds: This age-old rule is a boon for amateur photographers, especially when it comes to indoor shots. First, divide the frame into nine equal zones using horizontal and vertical lines that will form your grid — most smartphones and all digital cameras provide this setting. Then, place your subject in the left or right third of an image, ideally opposite the light source.
Invest in video and new technology
While classical photography is the bread and butter of listing visuals, new tools and technology will give you a competitive edge in a rapidly digitalizing industry.
Video walkthroughs bring in results for a reason. The medium is engaging, enabling you to showcase a space more realistically, dynamically and in the order you want. You can guide the prospects through the most impressive features of the property from a distance and craft a narrative you want prospects to remember. Remember to keep videos short and to the point.
The same is true for 3D virtual tours, which allow prospects to see the space for themselves. Of course, you won't have as much control over how they view it, but this powerful tool will enable people to explore spaces at their leisure and control what they focus on. Prospects will be more likely to book a tour if they've already seen a property's best features through an immersive experience.
Furthermore, drone technology will elevate your outdoor photography and videography alike. The benefits are clear: dynamic content, more details, a broader location context, a wealth of opportunities for flattering angles.
Include floor plans and maps
Last but not least, just as you include space specifications, ensure you also cover the essentials in terms of information:
Floor plans help prospects visualize the space differently from videos or photos. While this step may seem outdated, floor plans allow prospects to see how the space flows, how they can repurpose it to their own needs and how it can grow.
Interactive maps offer the same benefits on a neighborhood level. Most listing platforms have built-in, listing-level interactive maps that pinpoint surrounding businesses, amenities and neighborhood landmarks. If you don't already have this feature on your website as well, consider implementing it to showcase the location.
Write an Attention-Grabbing Description
A high-performing listing needs a compelling description. If they've gotten to this stage, buyers and tenants have already determined that the property or space meets their core criteria, so this is your opportunity to turn them into leads.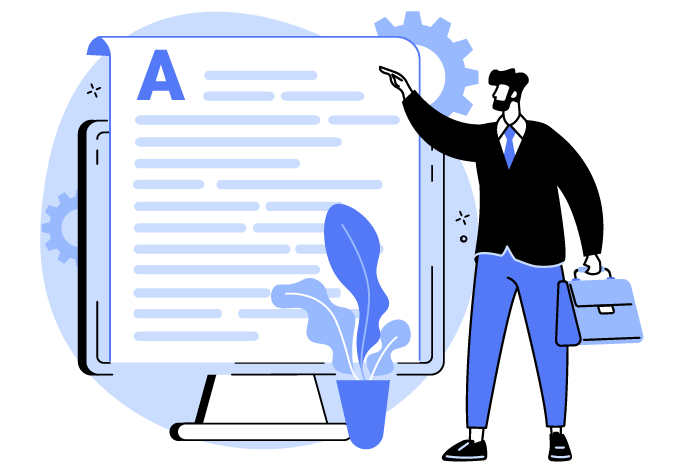 Find your unique value proposition
Listing benefits is vital, but a memorable listing also needs a main selling point that ties everything together. The first step in writing a great description is finding an angle that generates interest and tells the story of the space. This unique value proposition should act as a building block for the rest of the description, so consider any outstanding features, including:
Does the building have a captivating history or unique architecture?
Are there any well-known tenants in the building?
Are there premium or uncommon amenities available?
Is there something special about the location or layout?
Essentially, this is your chance to differentiate your listing and direct attention to its best features.
Of course, for a unique selling proposition to work, you need to tailor it to your audience. You can create a lean buyer persona by identifying your ideal client segment and researching their traits and preferences. Consider the types of properties they choose and their needs and nice-to-haves.
At the same time, learn from your competition. Find similar spaces listed by firms and brokers you know are successful and see how they position listings for your audience.
Choose your words carefully
Regardless of their background and profession, people prefer stories over information. Listing descriptions should help prospects connect with a space, so present it in a narrative rather than informative manner and use active language.
To make a description attractive without overselling, leverage powerful adjectives and verbs while avoiding cliches. Achieving an impactful writing style without overwhelming prospects can take some work, but there are plenty of tools that can help. Thesaurus websites are your best friend when it comes to finding new ways to describe typical highlights. At the same time, text editing solutions (such as Grammarly) will notify you when you're in danger of overusing phrases or words.
Mind the syntax and punctuation
A noteworthy CRE listing should generate enthusiasm while being easy to read — and punctuation plays an integral part in both.
First, make sure you use punctuation, especially to break up long paragraphs. At the same time, use short, snappy sentences are easier to read and have greater impact. Each sentence should make a clear point as succinctly as possible.
On the other end of the spectrum, use exclamation marks sparingly. A few exclamation marks sprinkled through the description text instill a healthy sense of eagerness. However, going overboard with them will seem unprofessional and tire the reader. Balance out intensity throughout the text.
Again, text editing apps can be invaluable in creating attractive descriptions. They'll tell you when you need to break up a sentence, as well as when you've added too much or too little punctuation.
Skip the basics
All listing sites include one or several info boxes where you can reveal detailed property and space information, so use the description area to sell rather than provide facts and figures. The square footage, availability and contact information are all critical, but unless there's something special about a particular bit of information, keep it out of the description. Instead, focus on differentiating factors.
Leverage SEO and Diverse Distribution Channels
Once you have gathered all the elements of an exceptional listing, it's time to tie it all together and spread the message. Besides the paid advertisements managed by marketers, you can have a direct impact on lead generation through two simple strategies.
Optimize your listing for search engines
Search engine optimization (SEO) makes it easier for leads to find your spaces. Perform keyword research to identify important terms for the headline. Start by putting yourself in the prospect's shoes. For example, if you were looking for creative office space in Phoenix, you would include the name of the city and the type of space.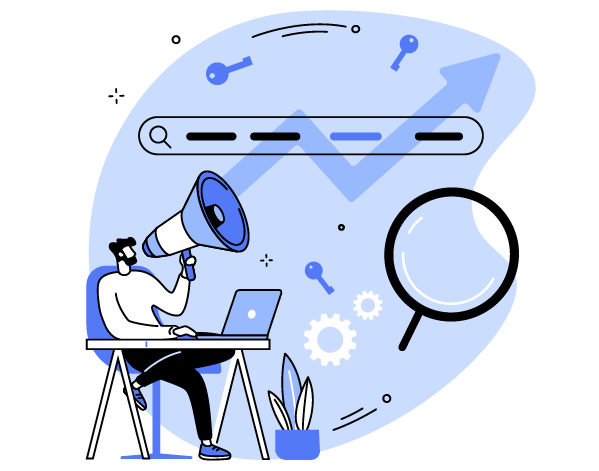 Then use a tool such as SEMRush or Ahrefs to search for related keywords. Don't get discouraged by the technical aspects; these solutions come with easy-to-understand user guides.
If you want to leave the search engine marketing to the experts, you can contract a third-party service specialized in commercial real estate, such as CommercialEdge Marketing. We offer a full-service marketing stack that includes bespoke property websites that are both SEO- and conversion-optimized.
Centralize your listings and syndication
Finally, list your spaces on the top marketplaces! Of course, it can be daunting to manage listings across scattered platforms, so consider opting for a specialized CRE solution that you can use to advertise across the web.
With CommercialEdge, you can leverage an expansive distribution network and centralize your listings in one place. Our free-to-use marketing platform empowers you to:
List spaces individually and in bulk with just a few clicks.
Publish spaces automatically to the entire CommercialEdge Listing Network
List to CommercialSearch, CommercialCafe, PropertyShark, 42Floors and Point2 Commercial with the push of a button.
These five top marketplaces rank on the first page of Google and bring in more than 300K yearly verified leads, growing by 540% over the past year.
Syndicate to the largest commercial marketplaces and your own website with ease. There is no need to duplicate listings if you want to extend your presence to third-party listing sites — you can manage all your listings from a single platform.
Conclusions
To sum it up, remarkable commercial real estate listings rely on quality information, professional photography and enhanced copywriting. To convert more quality prospects:
Provide detailed specifications regarding the property, services and amenities so prospects can qualify the space easily.
Present spaces with comprehensive, high-quality photography and leverage new touring technology.
Write purposeful descriptions by identifying unique value propositions and creating cohesive narratives.
Leverage SEO and listing networks to enhance your exposure and boost your leads.
Stay current with the latest market reports and CRE news:
More Articles You Might Like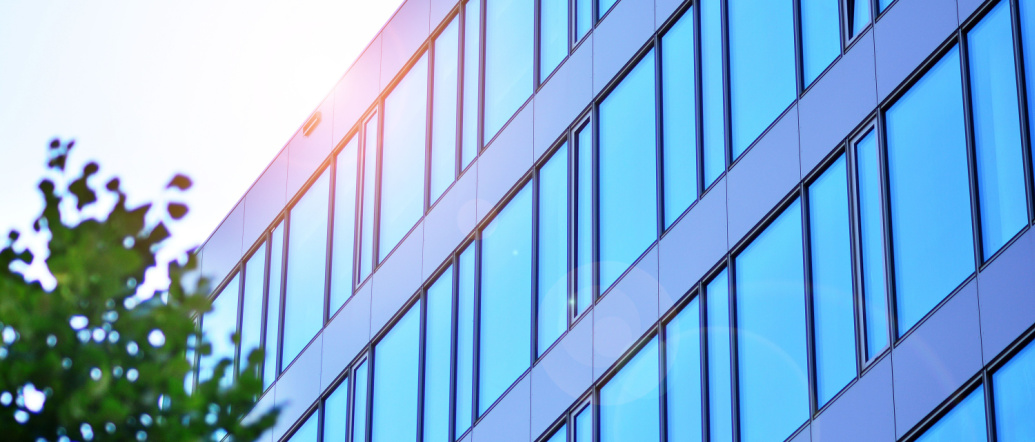 With CommercialEdge Marketing, Inside Edge Properties ensures a single source of truth for data integration across multiple teams and workflows.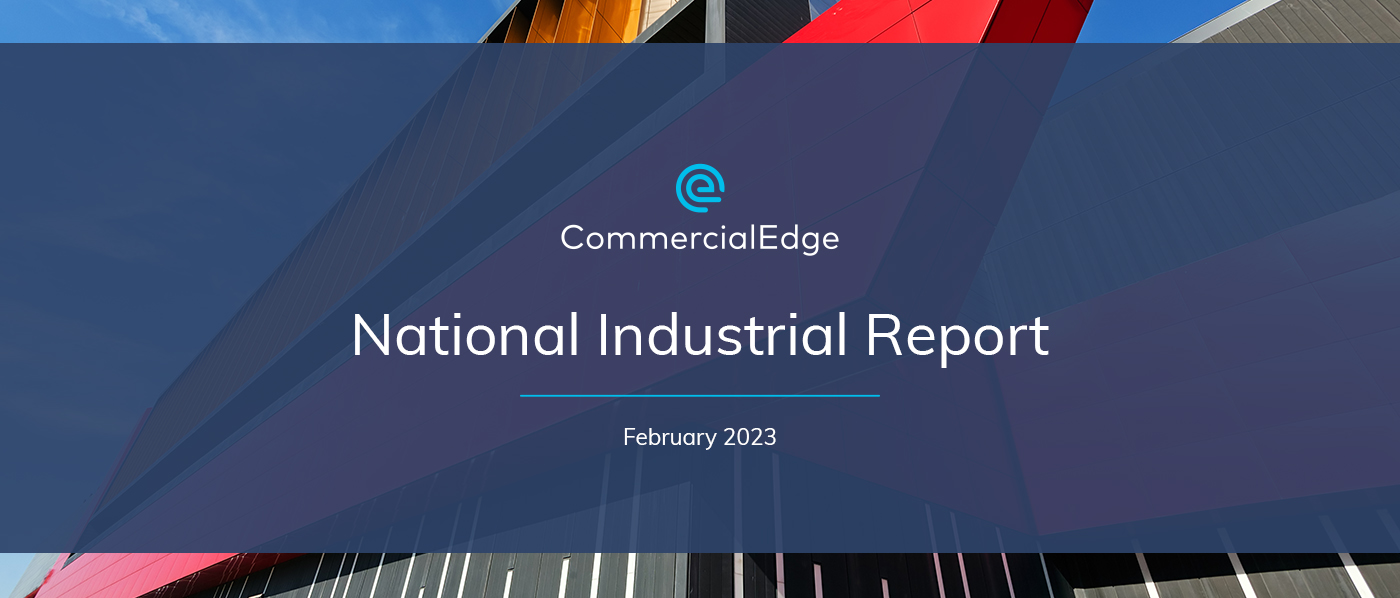 Industrial leases signed in the last 12 months reached a national average of $9.01 per square foot, $1.88 more than in-place contracts.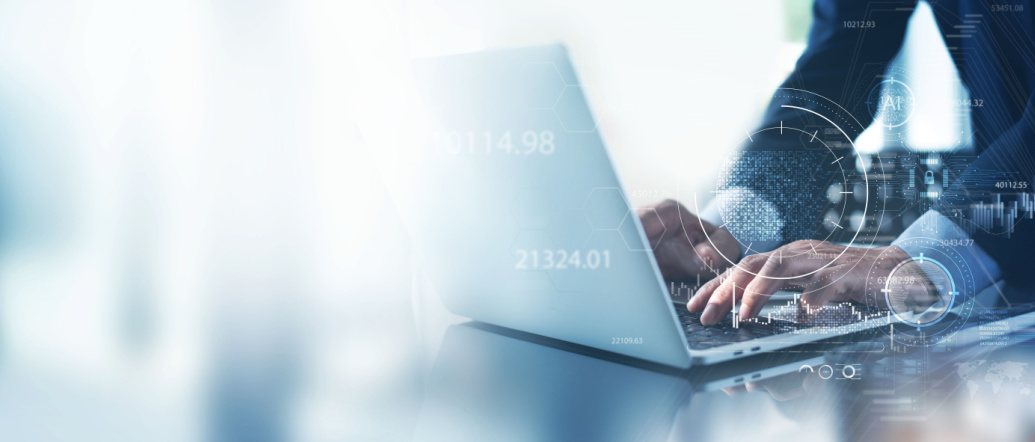 Connect agents, operations and accounting processes by centralizing all deal data, documents, invoice dates and commission splits.
The End-to-End CRE Solution
From marketing and research to deal management and commission payments, our tools enhance every facet of commercial real estate.