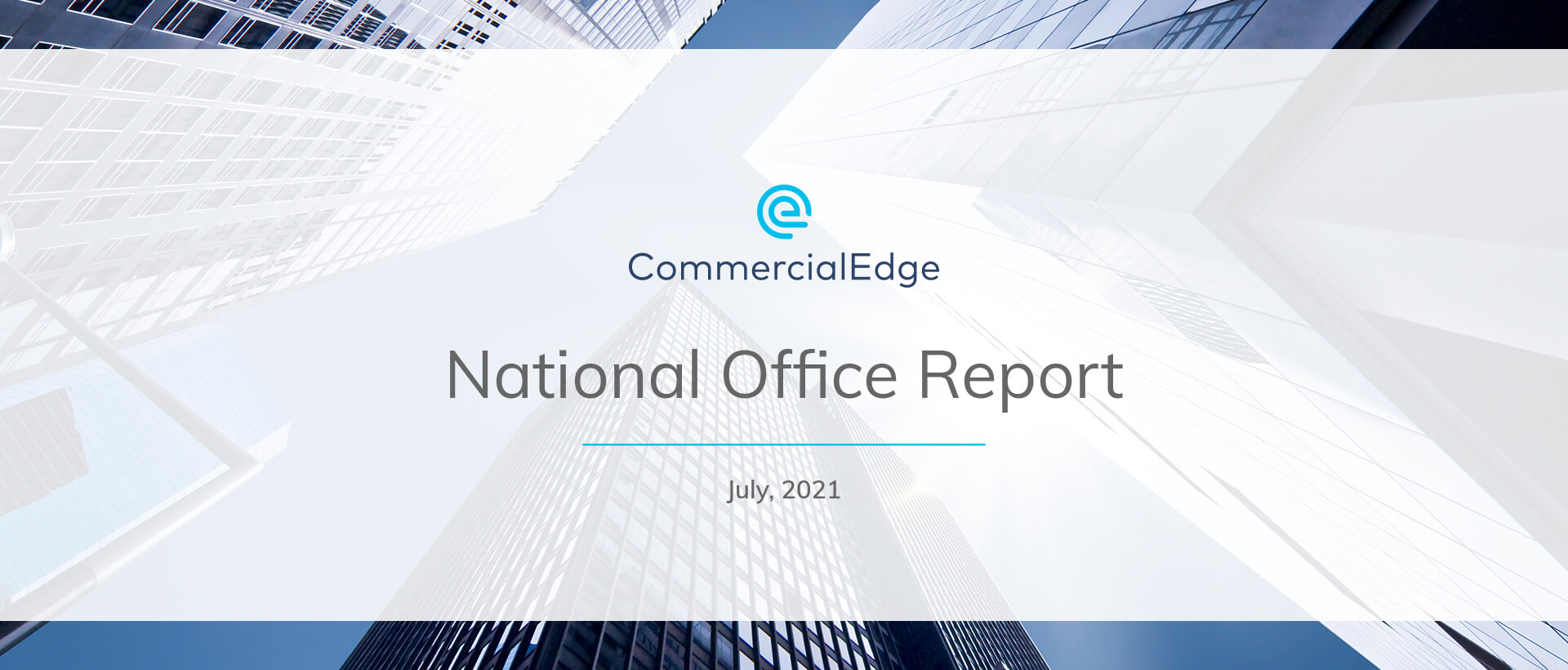 Increased Interest in Life Science R&D Contributes to Leasing Volumes in Select Markets
Key Takeaways
Average U.S. office lease rates were up 1.1% year-over-year
Office vacancy average held steady at 15.6% across top office markets
Transactions closed since the beginning of the year surpassed $30 billion
Nearly 30 million square feet of new office space delivered during first six months of 2021
Office Space Listing Rate Up 1.1% Y-o-Y in Major U.S. Markets
Across the top 50 U.S. markets, average asking office rents rested at $38.60 per square foot in June, continuing the steady upward trend seen throughout the past year. Specifically, last month, full-service equivalent listing rates were 1.1% higher year-over-year (Y-o-Y), on average. Notably, market conditions are significantly different now than the pre-pandemic norm. Therefore, the sustained growth in asking rates nationally was supported, in part, by markets with an abundance of high-quality office space coming online, as well as concession strategies in lieu of price adjustments. What's more, the current increased appeal of properties compatible with life science tenants gravitates toward established R&D office clusters.
Specifically, Boston took the top spot in terms of rent growth: Average lease rates here marked a 7.6% increase Y-o-Y, resting at $35.46 per square foot last month. Across the country, the second-highest year-over-year rent growth was recorded in the Los Angeles office market, where lease rates averaged $41.29 per square foot — 7.2% higher than June of last year. In third place, with a 2.3 percentage point difference, was the Bay Area, where rents rested at $55.56 per square foot — a 4.9% increase from the previous year.
Download the full report below for updated lease rate stats across all major U.S. markets.
Average Vacancy Rate Remains Stable at 15.6% for 2nd Consecutive Month
The 240-basis-point Y-o-Y increase in office vacancy that we discussed in our previous report held steady for a second month in a row: In June, average office vacancy across the top 50 U.S. markets was unchanged, resting at 15.6% nationally.
Meanwhile, well-established local bioscience research scenes — along with an overall increased demand for laboratory space and an office presence for companies operating in related fields — fueled additional interest in a handful of markets, which accounted for upticks in leasing volumes. In particular, Boston recorded an average vacancy rate of 11.7% in June, and Charlotte's average vacancy rate was 12.3% last month.
Office Sales Exceed $30 Billion in Q1 & Q2
At the same time, investors continued to direct capital along specialized acquisition strategies. In fact, sales data analyzed for this report showed that $30 billion worth of office assets have changed hands since the beginning of the year across the top 50 U.S. markets. Continued investment focus on specific high-quality assets has also maintained the sale price per square foot at historic highs. For example, last month, office properties nationwide traded for an average of $283 per square foot.
Our previous report had also highlighted the fact that, at the time, 2021 investment activity was roughly on track to match the total office sales volume recorded last year. However, this month's analysis found that some markets had already exceeded their 2020 sales totals during the first two quarters of the year. Specifically, office sales closed in Miami through June of this year amounted to $1.25 billion — 223% more than the $386.6 million total sales volume in 2020. Similarly, office investment in Atlanta since the beginning of the year was at $1.14 billion at the end of June — 33% more than last year's total sales.
161 Million Square Feet Under Construction Across Top Markets, 85 Million Scheduled for Completion in 2021
Historically, major economic events have brought about sweeping changes to industries, including how we interact with the spaces we occupy, as well as how these spaces are distributed across the country. As such, the current office pipeline is more a reflection of the state and shape of our economy prior to the COVID-19 pandemic than an indicator of how we end up adapting our professional, personal and leisure spaces going forward. Consequently, the 161 million square feet of office space that is currently under construction across the top 50 U.S. markets might be the first wave of the "new normal" in work space.
Finally, developers have completed nearly 30 million of the approximately 85 million total square feet of office space scheduled to be brought to market by the end of this year. To that end, current office construction forecasts expect 60 million square feet of new property to be developed yearly in 2022 and 2023, followed by a gradual tapering off to roughly 25 million square feet that is estimated to come online in 2026.
Download the full July 2021 report on performance across U.S. office markets, as well as insights on industry and fundamentals of economic recovery.

Methodology
The monthly CommercialEdge national office report covers properties that are at least 50,000 square feet in size. Listing rate information refers to full-service rates or "full-service equivalent" for spaces available as of the report period. Vacancy reporting includes sublease data and excludes owner-occupied property. Sales and price-per-square-foot calculations do not always include portfolio transactions or property exchanges with unpublished dollar values. For a detailed methodology, download the full report.
Stay current with the latest market reports and CRE news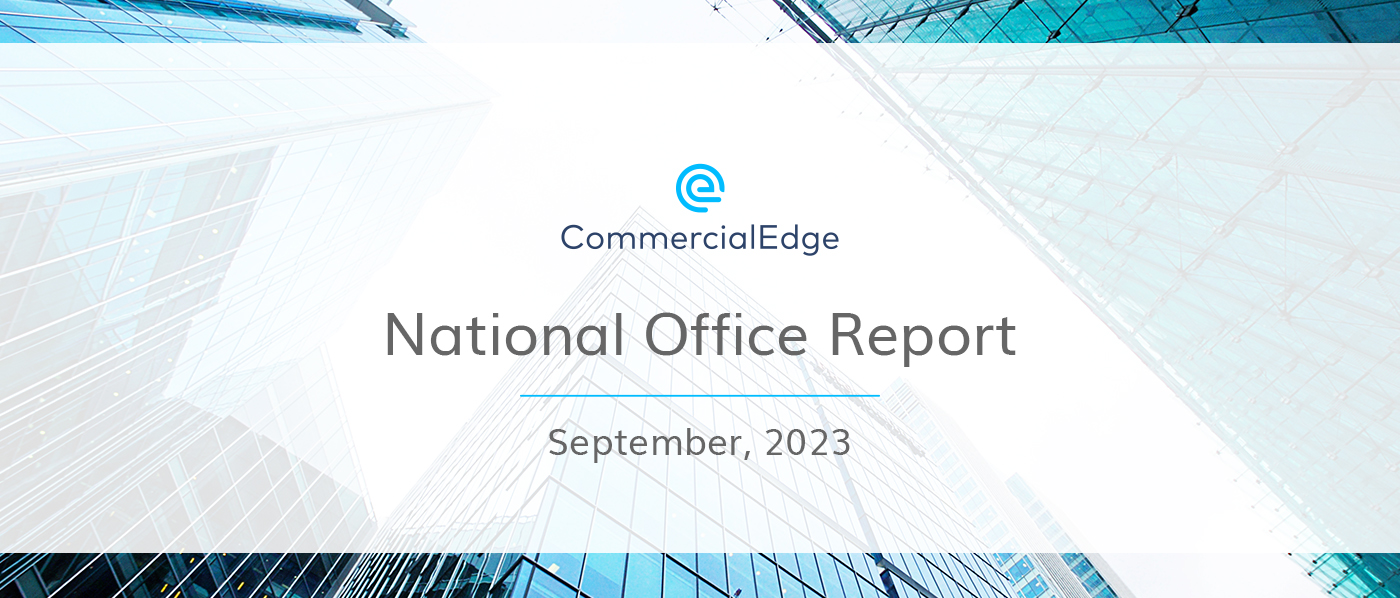 The U.S. office vacancy rate reached 17.5% at the end of August, rising 260 basis points over year-ago figures.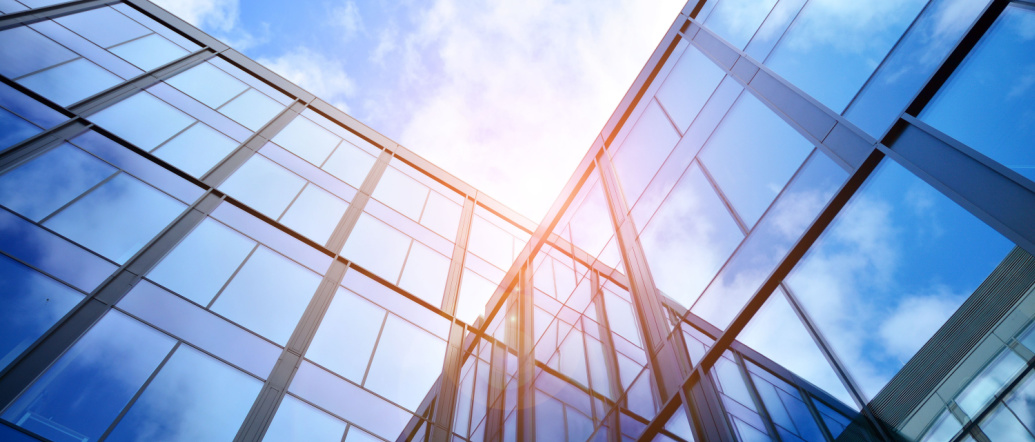 Loans on 18.1% of Class B assets — encompassing 594.2 million square feet — will reach maturity by the end of 2026.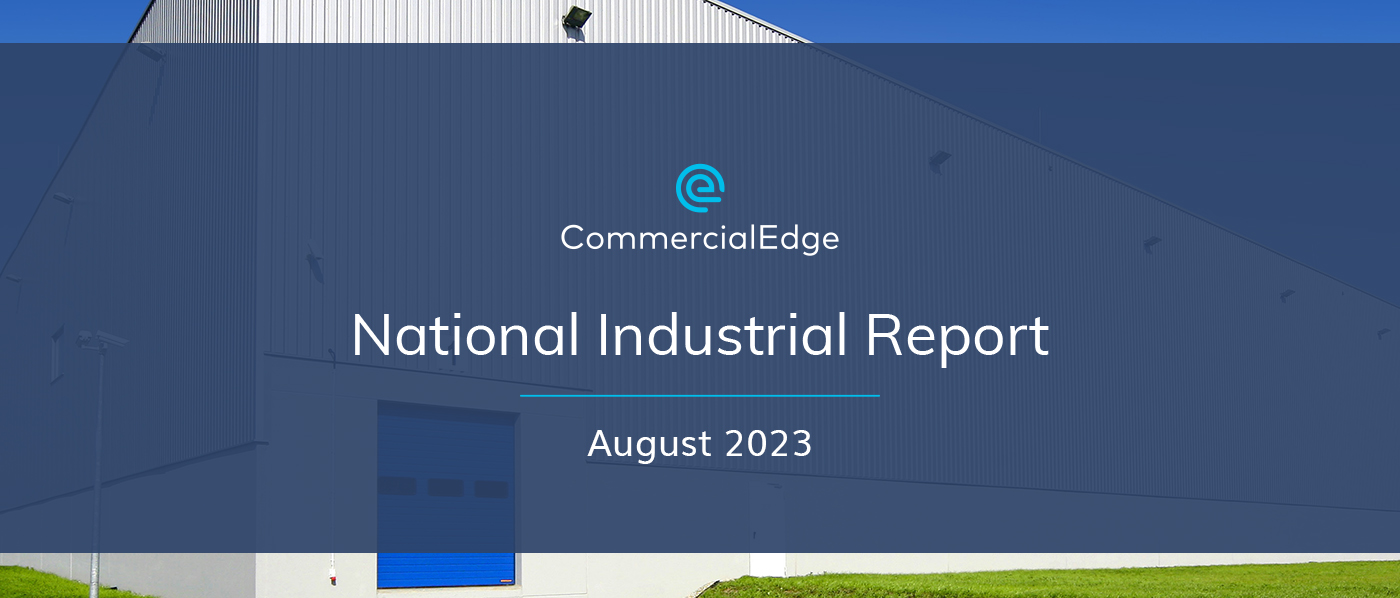 As capital has become scarcer and more expensive, industrial construction starts and sales have slowed down in 2023.