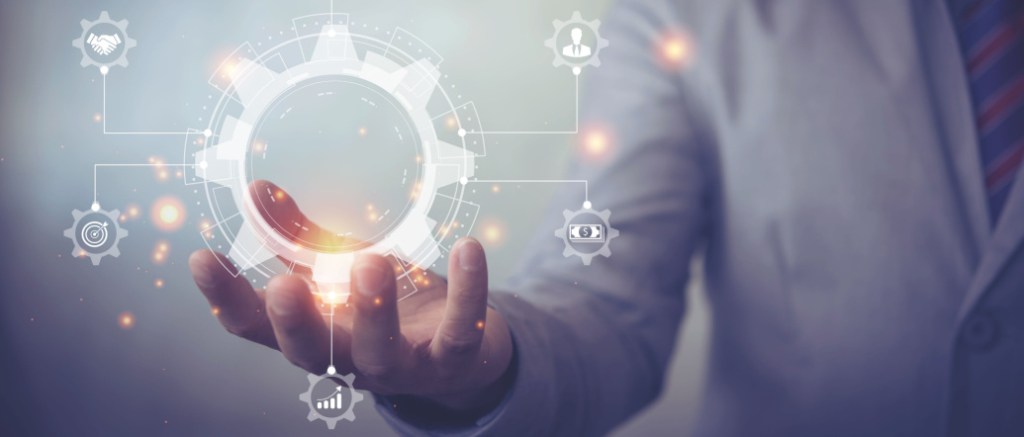 Eliminate Siloed Data and Streamline the Leasing Process 
For many commercial portfolios, the difference between individual percentage points of occupancy translates into significant differences in asset income and valuation. Therefore, a streamlined leasing process for asset managers and leasing teams is essential to keep occupancy levels up. A key step in achieving that goal is efficient data sharing and seamless collaboration between asset managers and their leasing teams.
Friction in the leasing process, however, can arise from the need for more efficient, timely data sharing. To illustrate this point, let's consider a lease opportunity scenario.
How Resource Discrepancies Stall Leasing Flows
A leasing team pursuing an opportunity uses market leasing data, budgets, historical leases, comps and more. But it's difficult to reach that information when it is stored in folders on multiple desktops or in a file cabinet. With vital details not coming together quickly enough, a prospective tenant might elect to lease space elsewhere. That means a lost commission or a smaller year-end bonus for the leasing agent, while the asset manager is left with vacant space and a missed chance to secure a rent-paying tenant.
Going a step up from a single transaction, we can see similar issues when an asset manager compiles data for a budgeting and forecasting cycle. Brokers often track their deals and pipelines on separate spreadsheets. In pipeline reviews with the leasing teams, the asset manager must understand each spreadsheet and analyze the data. There is no easy way to compile each team's update into one standardized view without manual effort from the asset manager. This makes it challenging to get real-time budgeting and forecasting pipeline information.
One Platform for the Entire Lead-to-Lease Lifecycle
How can the scenario of a missed leasing opportunity or delayed budgeting and forecasting be preempted? By avoiding siloed information systems and manual data imports that produce inconsistencies throughout the deal cycle. And by relying on technology platforms that house all deal information in a single connected solution.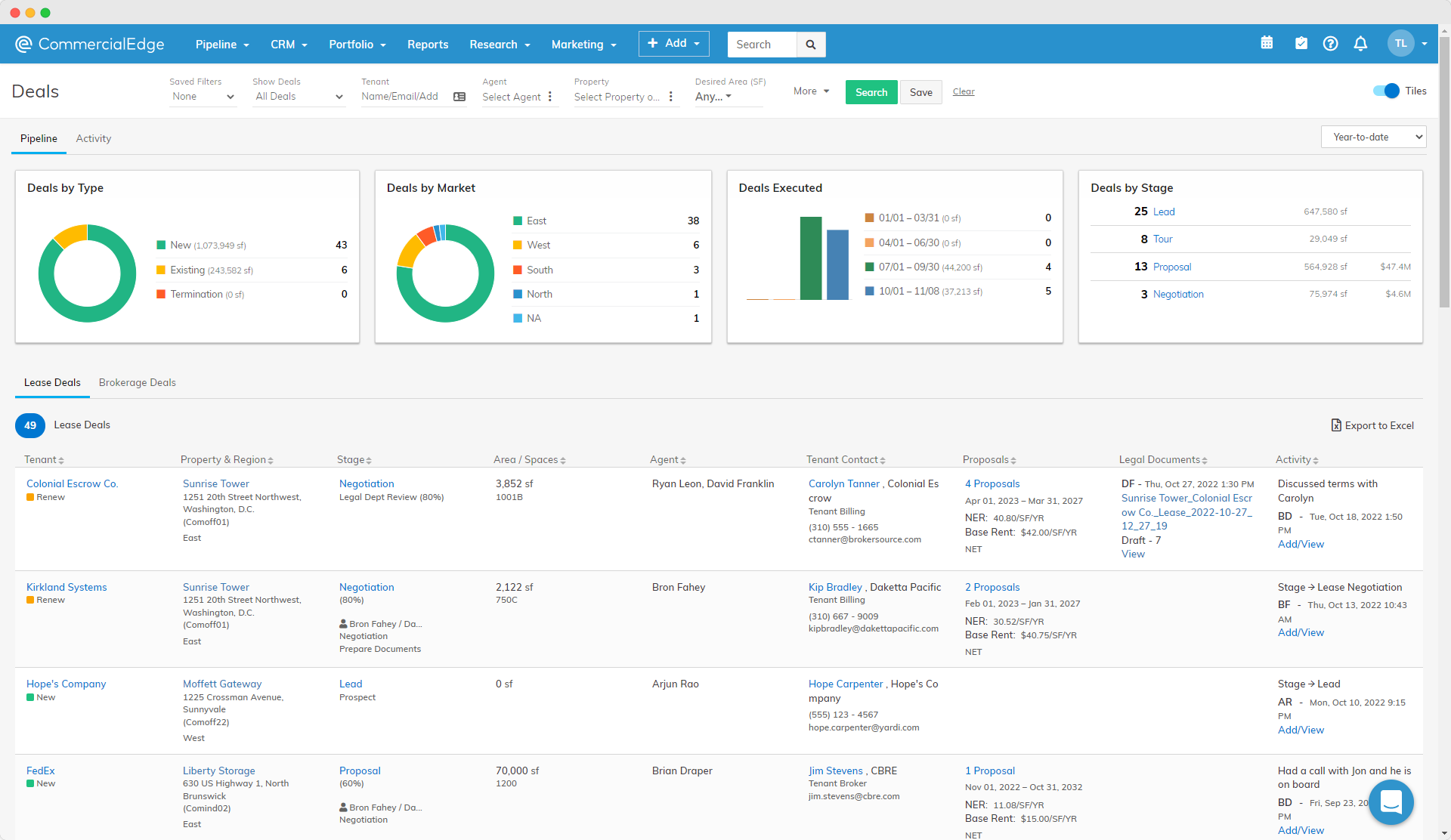 This approach avoids error-prone, time-intensive data transfers and relieves staff of manually tracking leads and tours. It also provides a reliable system for tracking activity at the top of the funnel, such as leads or property tours, giving leasing teams and executives complete pipeline visibility. They can see if there are sufficient quality leads downstream to maximize revenue on the property and compare a deal to the annual or underwriting budget in real-time.
Property management technology providers are making deal management more accessible and efficient with platforms that house all deal entry, tracking and approval. If you're in search of a deal management system, look for one that:
Ensures a consistent process for gathering, managing and reporting deal information.
Encompasses NER calculators, LOIs, deal sheets and lease documents.
Allows automatic comparison to budgets, prior leases, and other relevant benchmarks
Provides access to all parties needing to see detailed tenant information and expiring rent.
Automatically imports expense information.
Enables a lease to be automatically abstracted directly into the property management system.
Includes a sophisticated approval workflow that avoids email tracking or printing deal sheets for signature.
Offers access from any device.
One advanced system is Deal Manager, part of the CommercialEdge suite of revenue-focused solutions. Deal Manager transforms real-time data from the Yardi property management and accounting platform — which has complete data on upcoming lease expirations, tenant options and encumbrances — into complete deal pipeline visibility. It also enables full deal oversight, approval functionality and comparison of proposals against the approved budget. Furthermore, it makes revenue assumptions more accurate by seamlessly adding deals to Yardi Forecast Manager.
"Deal Manager's holistic tie back to Voyager was the biggest selling point; rent rolls are always up to date, which means deal metrics are always up to date. Document transfer as well from Deal Manager to Voyager was huge — it allows us to efficiently aggregate info from essentially pre-leasing to translate to tenant files in one fell swoop which saves leasing and property management time," Kelli Walter, partner of asset management for Partners, explained.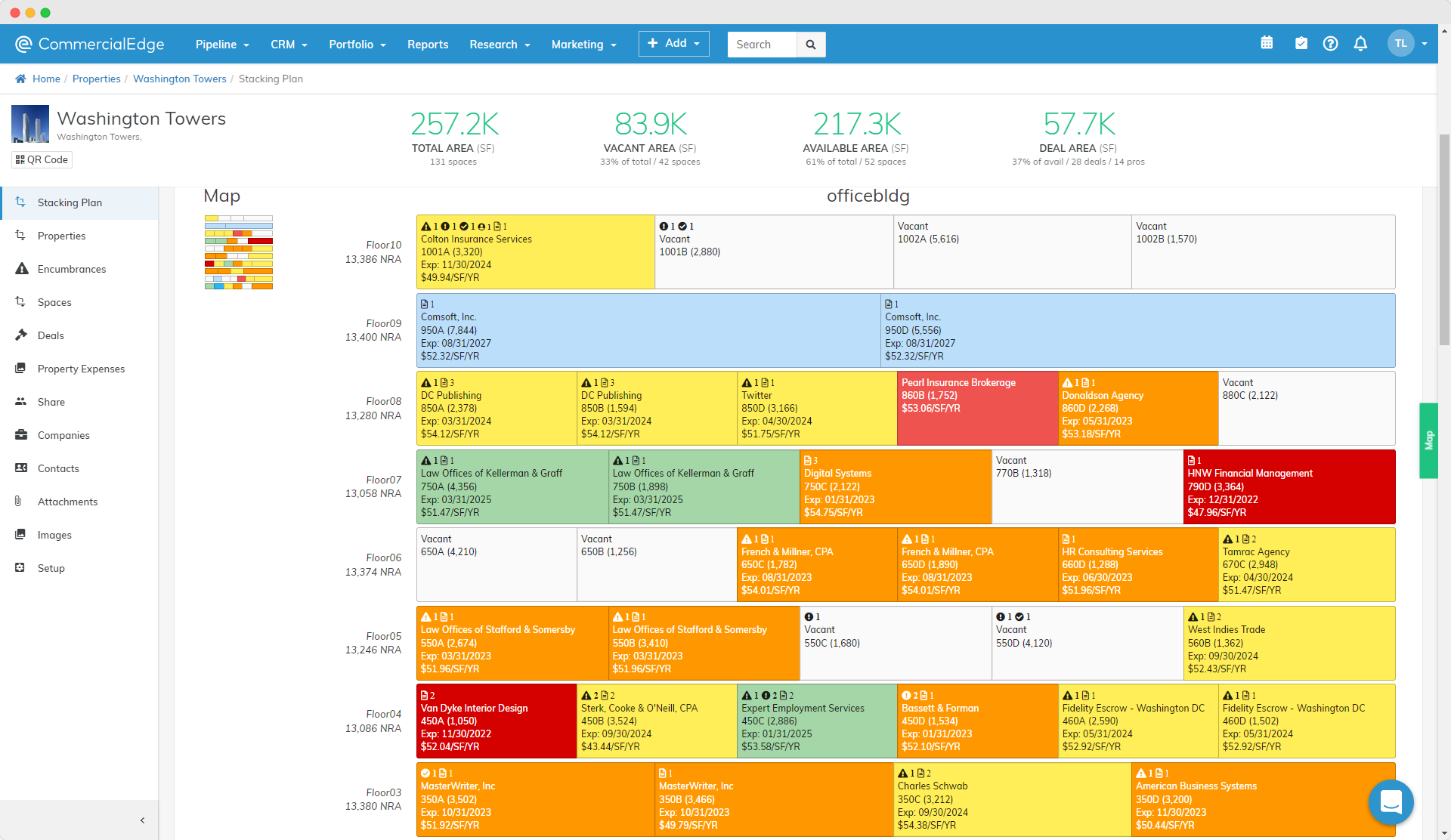 Immediate Pipeline and Productivity Improvements
Such systems centralize prospect files for easy reference, eliminate duplicate data entry with full integration with the property management and accounting system, enable side-by-side deal comparisons and automatically populate forecasts with deal data. They can also accommodate complex commission structures and provide full details in approval emails, with approval or rejection done within the email. As a result, brokers can spend their time engaging prospects instead of entering data.
"Technology like Deal Manager gets folks out of email, organizes deals and data exceptionally well, simplifies the credit underwriting process for leasing, which makes it faster to get deals done, and provides extremely valuable transparency into the deal curation process that can be used to analyze the effectiveness of your leasing and asset management teams," Walter added.
Team members who need to know about a deal's progression are automatically notified, letting all team members see each step's impact on the forecast immediately, rather than days later. In addition, the degree of data capture possible with such a system offers a clear look into revenue potential.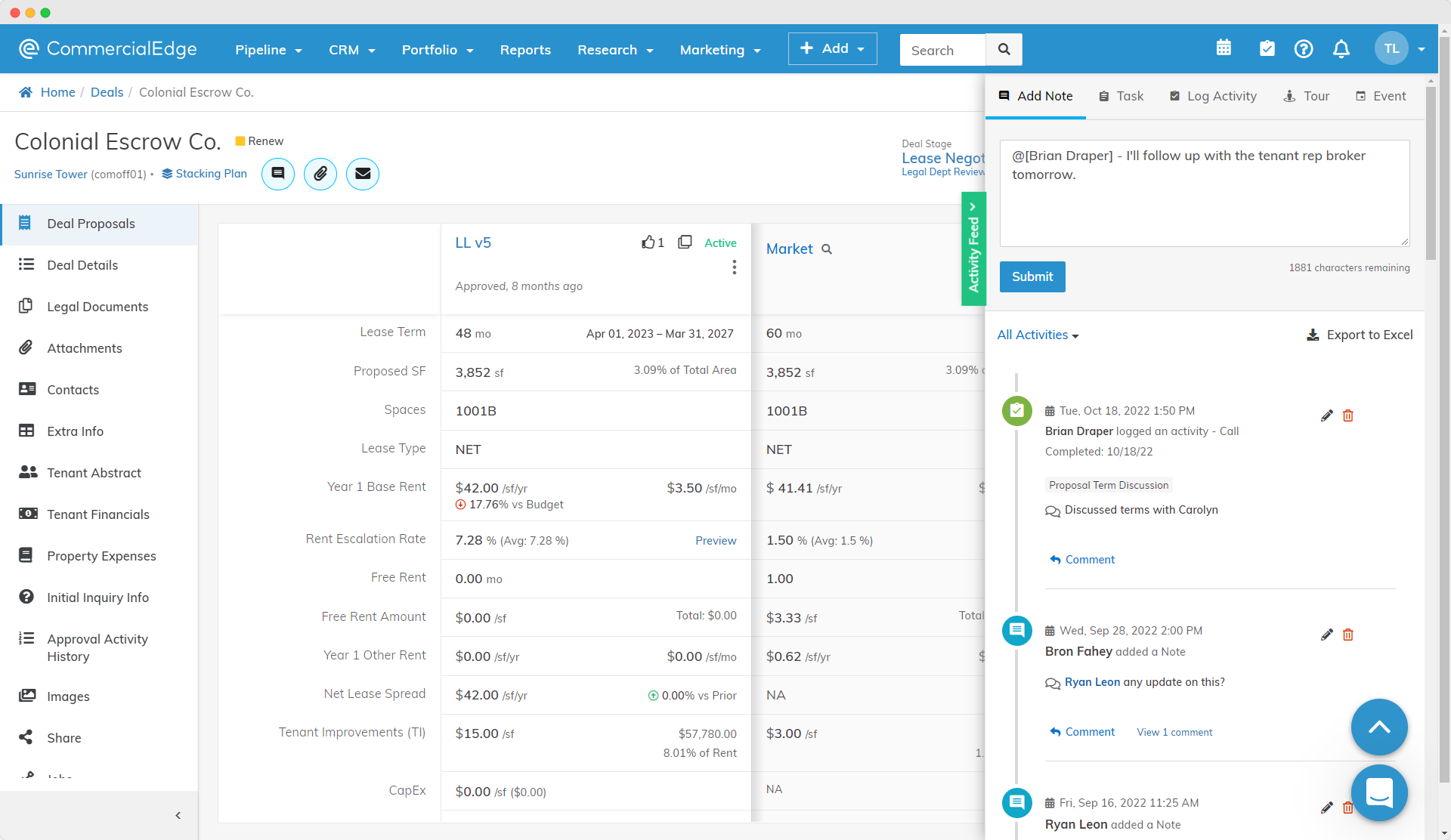 Deal management capabilities are enhanced with a mobile app that enables fast entry of leads and tours, ensuring those crucial details are always up to date. Brokers can scan a QR code and log a tour. Users can smoothly manage prospects and oversee each stage of the deal flow while automatically comparing deal economics to approved budgets and prior leases.
"With all information at hand in real-time, our team can evaluate and approve without back-and-forth phone calls and emails," said Richard Hickson, executive vice president of operations for Cousins Properties, an Atlanta-based REIT. "Our leasing, asset management and legal teams communicate more efficiently with Deal Manager, and that makes us quicker. That's the largest impact of Deal Manager for us."
Consider also the advantages of having all these capabilities in a single connected system instead of pulling together information from disparate systems. That's a formula for getting deals done and never missing an opportunity.

Stay current with the latest market reports and CRE news:
More Articles You Might Like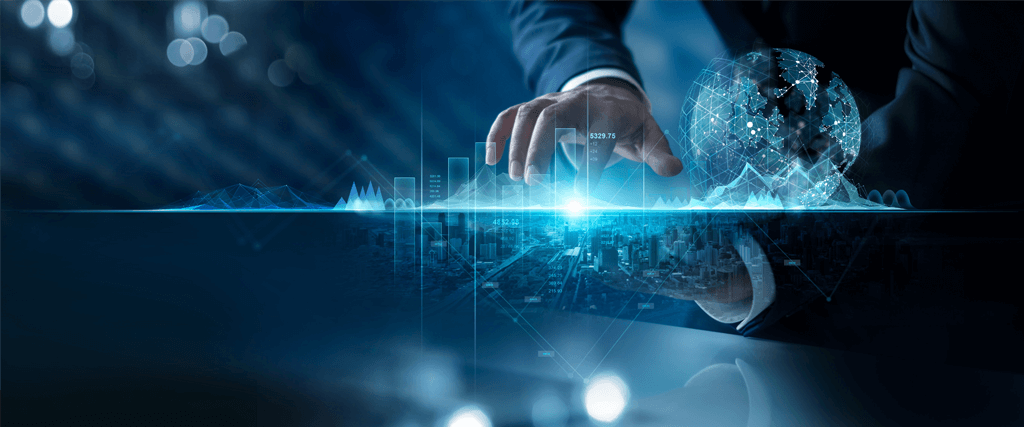 A data-driven approach and an accurate property database can provide a significant advantage in identifying investment opportunities.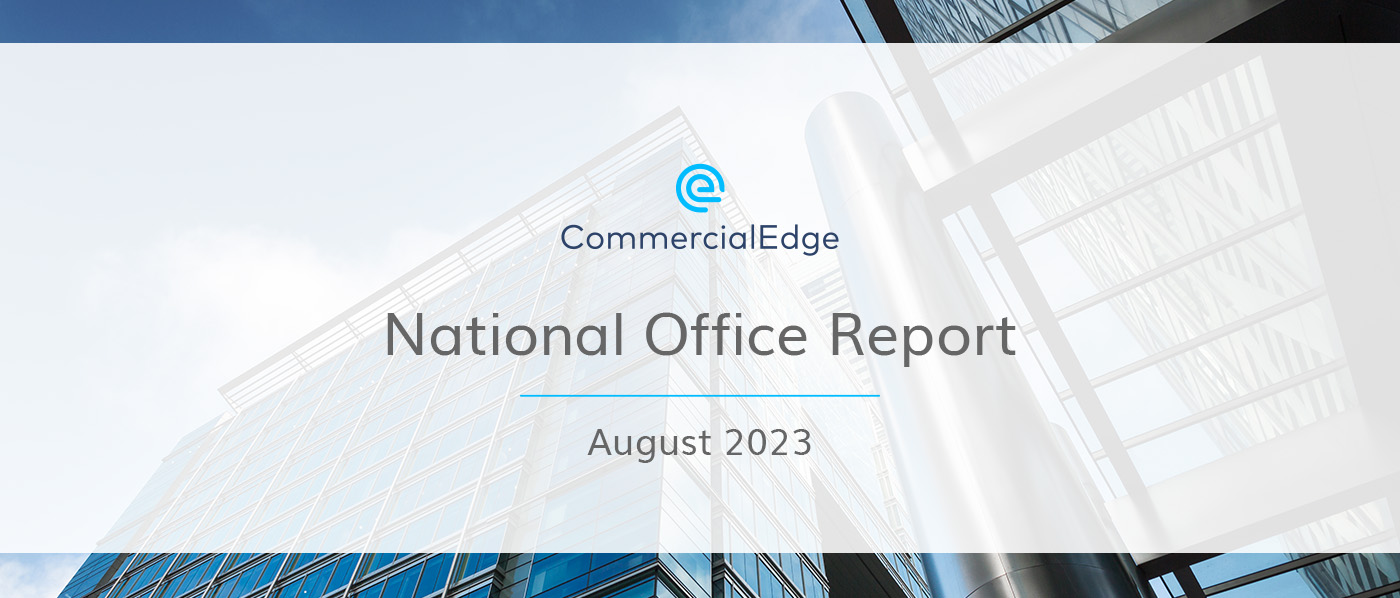 As office construction continues to cool, a quarter of under-construction office space is now concentrated in just 6 life-science-heavy markets.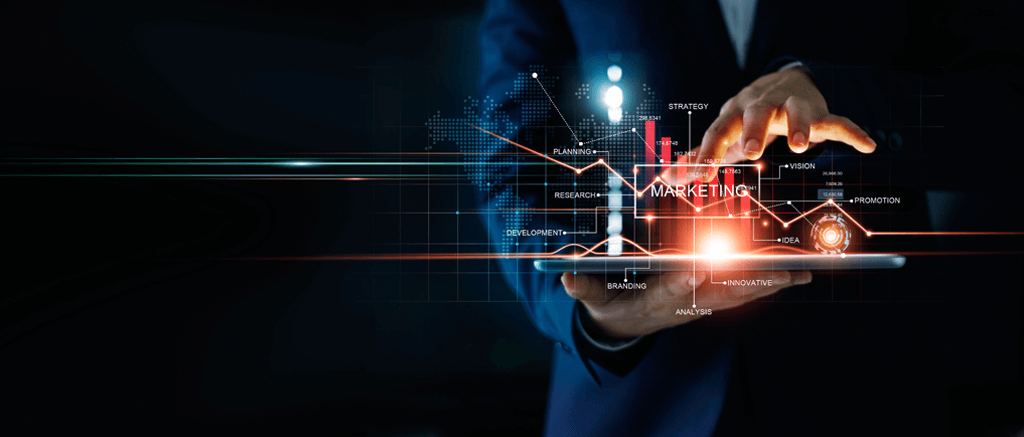 A clear marketing strategy and monitoring channels can result in quality leads, maximum occupancy rates and high return on investments.
The End-to-End CRE Solution
From marketing and research to deal management and commission payments, our tools enhance every facet of commercial real estate.