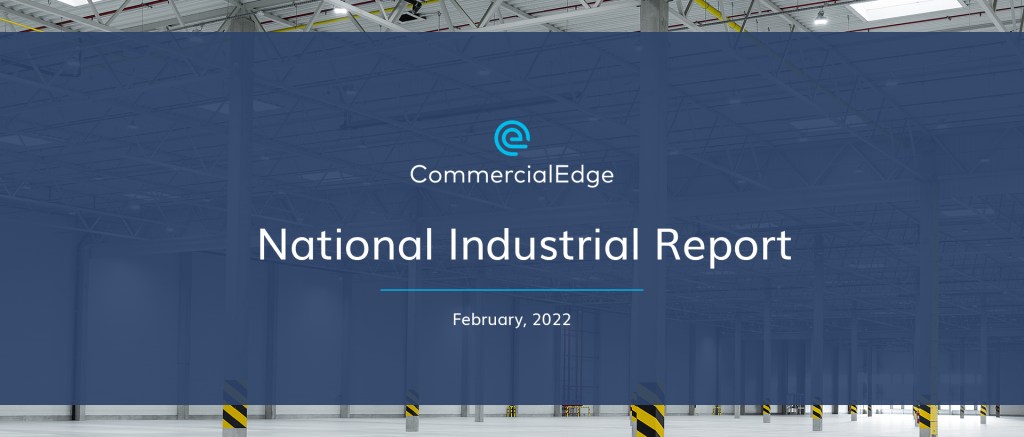 Industrial Market Starts Year Strong With 4% Rent Growth & 588MSF of Supply Under Construction
Key Takeaways
The national average rent for industrial space hit $6.46 per square foot in January
Vacancies dipped to an average of 5.5% across the top U.S. markets
Sales price continued upward trend, reaching $135 per square foot
Nearly 588 million square feet of industrial space under construction nationwide
Supply chains have been at the center of the industrial market in the past year, as the rise of e-commerce has fueled a surge in demand for industrial space in the nation's port and port-adjacent markets. But while northeastern and southwestern ports have been in focus during this time, the trend extends beyond the largest U.S. markets. Specifically, the Southeast has seen an unprecedented industrial boom in the past year, also propelled by port activity.
In particular, the Savannah-Hilton Head market had 23.5 million square feet (MSF) of new industrial space under construction in January, accounting for a significant 22.3% of its stock. At the same time, 9.7MSF of industrial space were in development in nearby Charleston, representing 14.7% of the stock in its market. Moreover, a spillover effect is already visible, with Greenville's strategic location near the two ports — as well as its positioning between Atlanta and Charlotte — propelling its construction pipeline to 12.6MSF at the start of the year (6.7% of stock).
Read to the end and download the full February 2022 report for updated lease rate and vacancy stats for all major U.S. markets.
Nashville Leads Rent Growth Nationwide, Overtakes Southern California Markets
Across the top 30 U.S. markets, rents for industrial space averaged $6.46 per square foot in January, rising by 4% in the last year. Furthermore, the national vacancy rate decreased by 20 points compared to December, dipping to 5.5%.
In an individual market analysis, Nashville industrial space posted the fastest rent growth among top markets, reaching an average of $5.20 per square foot after a 6.3% year-over-year rise. While Southern California markets such as the Inland Empire (up 6%) and Los Angeles (up 5.7%) usually lead rent growth nationwide, Nashville's storage boom has pushed it ahead of the pack at the start of the year.
Rent growth was weakest in Midwestern markets, where higher availability of developable land has allowed for construction to meet rising demand. Detroit recorded the slowest rent growth at the beginning of 2022, up only 0.9% compared to January 2021. Kansas City and St. Louis followed, as industrial rents in the two markets rose by 1.6% and 1.7%, respectively.
In terms of tenant absorption, the Inland Empire continued leading the U.S. with an average vacancy rate of just 0.9% in January. Columbus recorded the second-tightest availability (1.3%) while Los Angeles and Indianapolis shared the third position with a 2.6% average vacancy rate.
Industrial Sales Prices Show No Signs of Slowing at the Start of the Year
The average sale price for industrial space was $135 at the beginning of the year, surging 13.5% compared to the fourth quarter of last year ($119). Sale prices for industrial transactions will likely continue to rise throughout the new year, based on the sustained upward trend of the past five quarters.
The highest sale prices for January transactions were recorded in Seattle, where properties exchanged hands for an average of $382 per square foot. The Bay Area and New Jersey followed, with average sales prices of $311 and $237 per square foot, respectively.
Furthermore, industrial sales amounted to $3.6 billion by the end of January, a strong start to the year considering the first quarter typically reports lower transaction volumes. Eight markets already surpassed $100 million in industrial transactions by the close of January. New Jersey industrial space stood out with a sales volume of $375 million in the first month of the year, as did Houston recording a notable $210 million in industrial transactions.
Starting with this month, sales volume reporting has been adjusted. Sales estimates now also include unpublished and portfolio transactions (previously not covered in this report), with sales comps based on similar local transactions. As such, comparing sales figures in this and future reports to previously published values will deliver inaccurate results. The complete sales comps criteria are available in the full report.
Nearly 588MSF of New Industrial Stock Under Construction Nationwide
The industrial supply pipeline remained robust through January, with a total of 587.8 million square feet of new stock under construction by the close of the month. Projects with shovels in the ground accounted for 3.5% of stock among top markets. Including planned projects, the pipeline represents 7% of the total industrial space across the top 30 markets, pointing to a continued supply boom in the coming months.
At the individual market level, Dallas had the largest construction pipeline at the start of the year — 38.9 million square feet or 12.4% of the market's total industrial stock. Furthermore, Phoenix had over 35 million square feet of industrial supply under construction, accounting for 12.5% of its stock. Logistics hub Indianapolis came in third with 29.1 million square feet of industrial space in development, and claimed the second-highest share of new industrial construction nationwide at 9.4%.
Download the complete February 2022 report for a full picture of how U.S. industrial markets fared in 2021, including insights on industry and economic recovery fundamentals.

You can also see our previous industrial reports.
Methodology
The monthly CommercialEdge national industrial real estate report considers data recorded throughout the course of 12 months and tracks top U.S. industrial markets with a focus on average rents; vacancies (including subleases but excluding owner-occupied properties); deals closed; pipeline yield; and forecasts, as well as the economic indicators most relevant to the performance of the industrial sector. For a detailed methodology, download the full report above.
Stay current with the latest market reports and CRE news:
More Articles You Might Like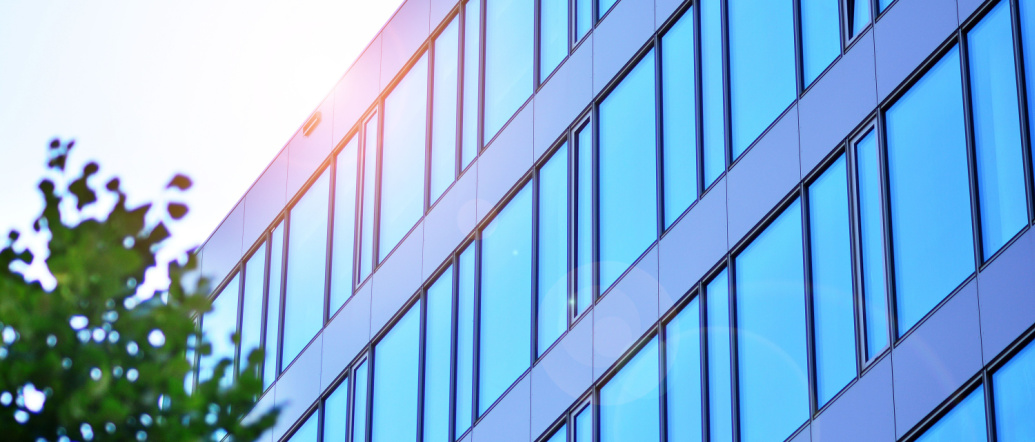 With CommercialEdge Marketing, Inside Edge Properties ensures a single source of truth for data integration across multiple teams and workflows.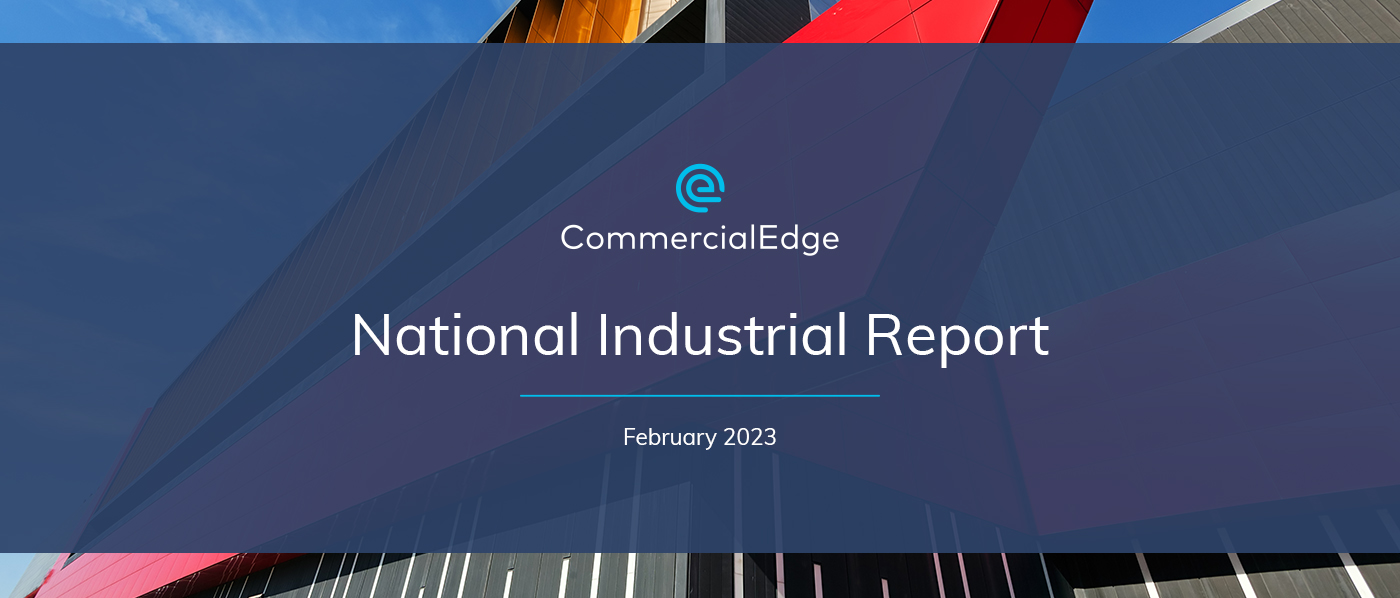 Industrial leases signed in the last 12 months reached a national average of $9.01 per square foot, $1.88 more than in-place contracts.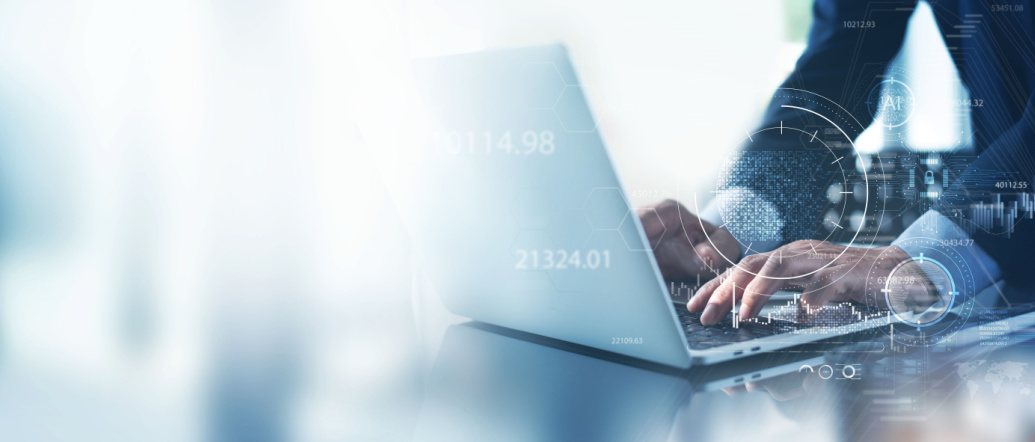 Connect agents, operations and accounting processes by centralizing all deal data, documents, invoice dates and commission splits.
The End-to-End CRE Solution
From marketing and research to deal management and commission payments, our tools enhance every facet of commercial real estate.