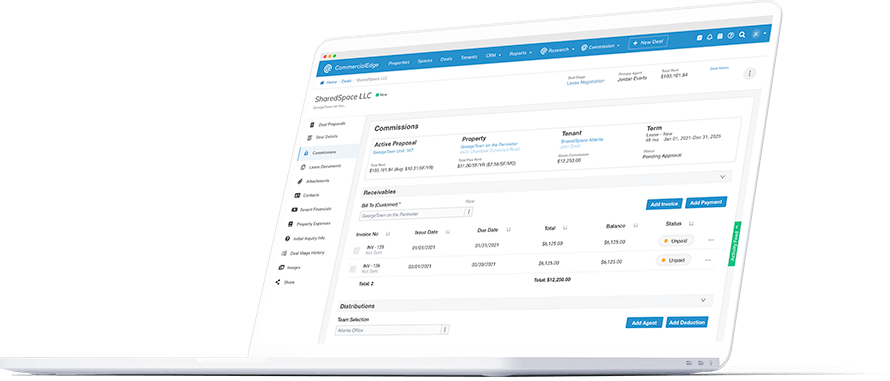 Automate listing management, generate marketing collateral and syndicate to the top marketplaces and your custom websites with ease.
Accelerate and simplify your entire deal-making process with powerful CRM, real-time deal metrics, and pipeline management for leases, sales and fees.
Streamline the entire process from deal completion to broker payments. Easily manage complex splits, rules, overrides, draw plans and more.
Boost your leads, accelerate deal cycles and streamline your back-office operations with one complete platform
Your one-stop shop for CRE marketing
Showcase your brand with sleek, optimized listing sites and branded marketing collateral
Upgrade and simplify listing management with automation and outsourcing
Increase your reach effortlessly with a powerful CRE listing syndication service
For Yardi clients, sync properties and spaces automatically from Yardi Voyager and trigger space availability based on lease expirations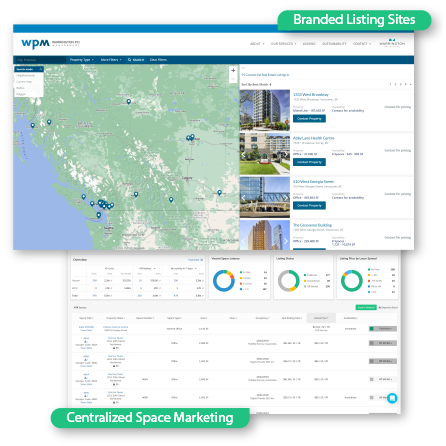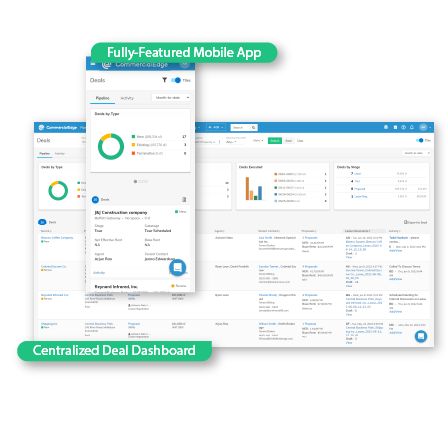 The most powerful CRE deal-making software on the market
Fast-track deals with powerful, intuitive workflows that are tailored to CRE deal cycles
Make stronger decisions with instant comparisons and comprehensive reports
Centralize your prospecting, pipeline management, deal visualization and deal data
For Yardi clients, improve your budgeting and forecasting process by pushing deal specs to Yardi Forecast Manager. Auto-create TI jobs with Yardi Construction Manager
A complete commission system from deal done to distributions
Streamline your back-office with automated operations workflows
Gain insight and increase transparency with powerful reporting and real-time analytics
Full support for even the most sophisticated and complex commission rules
For Yardi clients, leverage robust synching between Commissions and Voyager or Yardi Breeze, with support for cash, accrual or hybrid-based accounting needs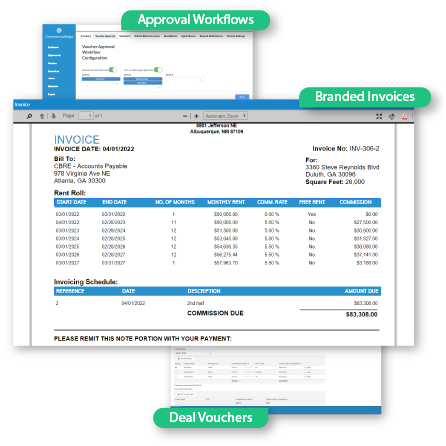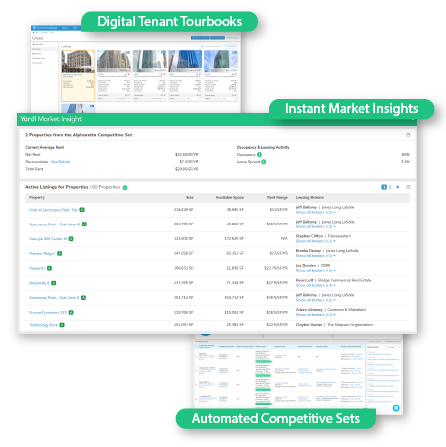 Powerful market intelligence and workflow tools
Prospect effortlessly with detailed property and listing data, including owners behind LLCs
Present your research professionally with customizable, branded PDF reports
Leverage automated competitive sets that self-update with listing and transaction data
View instant local market insights such as actual rents, lease spreads, occupancies and more
Accelerate tenant rep deals with auto-generated tenant tourbooks for every step of the process
The Retail Strategy
"For anyone who has had to deal with the daunting task of tracking and paying commissions, I think this is an excellent solution. It's easy to use, it's accurate, it's user friendly and I would highly recommend it to anyone dealing with commission management. "
— Paul Brunner, COO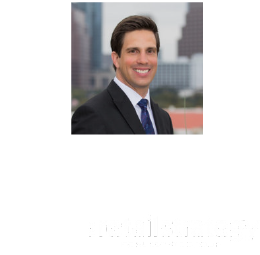 SVN Ramshaw Real Estate
"With Commissions, the payments are being processed much more quickly, so we're not getting a lot of questions like, 'Have you gotten the check?' or 'Where's my commission?' The whole process has become a lot more efficient and much faster."
— Lauren Ramshaw, Operations, Marketing & HR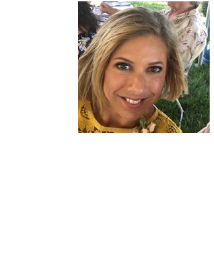 NAI Dominion
"Through all the time we're saving with Commissions, I can get everything done quickly for the brokerage, which allows me to spend more time helping with our other business operating multifamily properties. As our two companies have grown, we didn't need to hire any more people because of time I now save with Commissions."
— Tracey Barden, Accounting Manager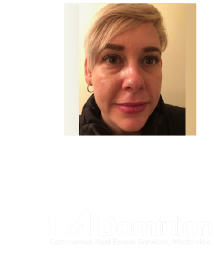 Colliers Philadelphia
"Commissions has automated what we were doing manually, which was prone to error. Whenever you have a manual process, like spreadsheets, you can have errors. But Commissions takes all that away by automating even complex calculations. It can handle all transaction types, so to me, that's the highest recommendation you can get — that it can handle your business needs."
— Susan Olinsky, CPA, Senior VP of Finance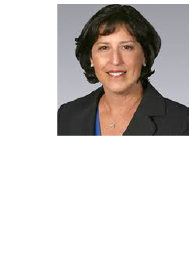 CommercialEdge is trusted by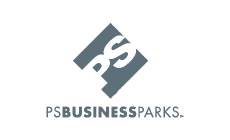 The End-to-End CRE Solution
From marketing and research to deal management and commission payments, our tools enhance every facet of commercial real estate.