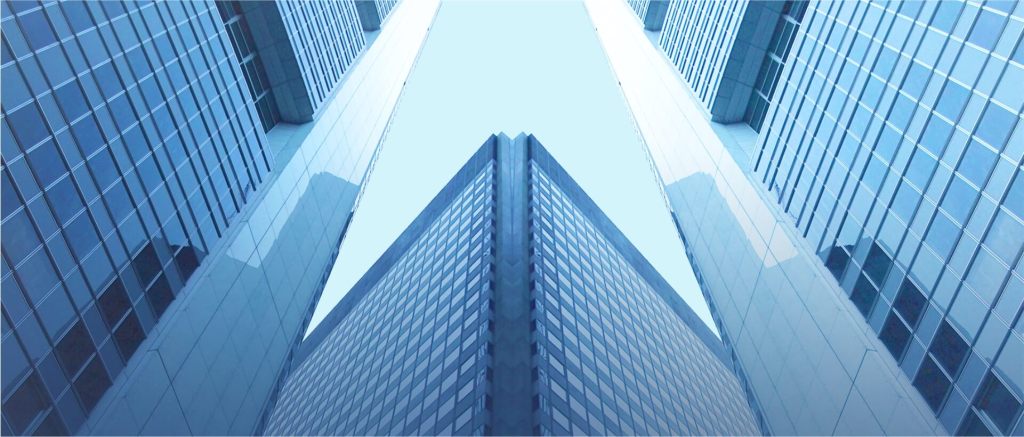 New CRE Platform on the Cutting Edge of Property Data & Listings Marketing
Since the 1980s, Yardi has developed and supported leading software tailored for the ever-evolving real estate industry. Today, the global tech leader offers a vast suite of software solutions designed to meet the needs of real estate companies of all types and sizes, from entrepreneurial landlords to global corporations that operate millions of square feet of space. Powered by a global team of more than 7,000 employees across 45 offices worldwide, Yardi is always looking forward to new and better areas of service for the real estate industry at large.
Early on, Yardi identified the real need for an intuitive and insightful platform that combines property research with listings and marketing tools – one that also leaves control over listing information, data and research in the hands of the real estate professionals that the platform serves.
In mid-2020, the industry at large was pivoting to a new, socially distanced way of doing business. Following years of dedicated research, data acquisition and software building, Yardi was ready to launch CommercialEdge right when research, prospecting, lead generation, client meetings and even contract signing went digital. Equipped with the right digital research tools, a highly efficient deal overview and vast public reach of your listings portfolio, your real estate business continues to grow unhindered.
CommercialEdge: The Future-Ready Comprehensive CRE Platform
CommercialEdge empowers users to seamlessly analyze comprehensive property data, research active listings, uncover market insights, as well as manage and market listings across the wide-reaching CommercialEdge Listing Network, the proprietary ILS with over 15 million monthly visitors.
Officially launched in May 2020, CommercialEdge has received overwhelmingly positive feedback from early users. This newest online platform from Yardi is the ideal way for brokers and owners to view and manage market data, as well as easily promote their for sale or for lease listings. Moreover, the system design of CommercialEdge also addresses tenant representatives.
Specifically, the network's free public-facing marketing platforms allow tenants that are actively in the market to easily list their commercial real estate needs, with a built-in fast-track direct line to available commercial spaces in their location of interest.
This new and improved nationwide commercial real estate professional's resource gives you all the property research and comparables data you need to prospect the market and compile the most attractive commercial real estate offering.

Not only does the platform offer over 8 million property records and in excess of 5 million recent transactions, it's also paired with an extensive syndication network of commercial listings websites that generate more than 40,000 verified leads yearly. As such, its highly efficient lead collection and management tool – among many other intuitive features – empowers both real estate professionals and the clients they serve to fast-track deals.
Edge Marketing: Seamless Lead Management and Listings Exposure
Improve your process, increase efficiency and maximize the productivity of your time with access to the free marketing module. Simply create a free CommercialEdge account to market an unlimited number of listings and syndicate your portfolio across the CommercialEdge Listing Network, your website and other third-party platforms using our API.
You retain full control of how and where your portfolio is displayed, as well as ownership of your listing's information, photos and research.
One Platform for All of Your Behind-the-Scenes Listings Operations
With Edge Marketing, it's easier than ever to list properties online: simply add them directly from your account. You have full control over how much information you share, by choosing between quick listings with summary information or extended listings with detailed specs, including supporting documents and photos.
Alternatively, you can also choose to connect with the dedicated CommercialEdge Listings Team to import listings from your website and benefit from the best professional in-house assistance for showcasing your portfolio.
Once published, your listings are automatically distributed across the CommercialEdge Listing Network, which currently includes the public-facing marketing platforms CommercialCafe, CommercialSearch, Point2 and PropertyShark. For enhanced exposure, you can boost the visibility of your offerings with Featured Ads, as well as syndicate your listings to your website and third-party platforms.

With the free CommercialEdge marketing module, you manage all your syndicated offers in one place – no need to keep track of which listings are uploaded where. No need to spend your time navigating each separate listing platform to update information – the comprehensive overview of your portfolio makes data maintenance easy. Once you update your public listing data in Edge, the network applies your changes across all syndication channels and websites automatically.
One Platform for All Your Commercial Leads
CommercialEdge allows for unlimited listings and sets no limits to the number of leads this network exposure will generate for you. The built-in Edge Marketing CRM allows you to conveniently manage leads generated from all websites, in one intuitive platform. Access a bevy of filters for added agility in lead management and streamline your follow-up operations by integrating schedules and tasks directly from your CommercialEdge profile page.
Edge Research: Turn Our Data into Unmatched Opportunities
The CommercialEdge Research module contributes a highly valuable boost to your Edge Marketing toolkit, enabling you to unlock advanced, nationwide property and listing searches. Even more so, Edge Research empowers real estate professionals to run lease and sale comparables based on the latest transaction data that can easily be incorporated into your research, investment and marketing materials.
Not only that, but you can also build your own private, secure database of proprietary lease and tenant information – over which you retain full control, including how much you share, with whom and when.
Leverage more than a decade of advanced commercial property research powered by Yardi and run aggregated analyses to evaluate and price assets competitively. With exhaustive property data, the latest local market insights and detailed property contact information you can seamlessly streamline your deal pipeline and even market your clients' needs directly to brokers in the market.
One Platform for Your Prospecting Needs
The attractively priced Edge Research membership will unlock the full benefits of national CRE coverage built up over more than a decade of careful commercial real estate data research. Beginning with the 2009 acquisition of iconic New York City real estate data provider PropertyShark, Yardi has been collecting and optimizing county-level real estate information from all over the U.S. for a truly comprehensive nationwide coverage.
With many of the original management and data specialists running point since the start, Yardi's dedicated research teams contribute uniquely detailed knowledge and understanding of processes, regional and local data, as well as market identity and inventory.
The research processes are fully original and include extensive fact-checking in a committed effort to provide the highest degree of accuracy —as opposed to machine-driven, fully automated research. As a result, CommercialEdge property reports have an accuracy level of 60% to 90%, far exceeding the industry average of 30%.
One Design for Straightforward Nationwide Property Data
Easily conduct market-wide property searches, prospect through hundreds of thousands of listings and get in touch with tenants in the market, property owners and representatives by leveraging intuitive, CRE-oriented tools and filters for relevant leads that actually convert into business. Not only can you focus on asset classes, (sub)markets, clients and reps in your specific area of interest, your results will contain standardized property reports, eliminating the need to equivalate and standardize commercial property information from one county to another.

Dedicated teams at CommercialEdge have researched, compiled and standardized commercial property information across 700 U.S. counties, with coverage growing every day. The extensive property data accessible through an Edge Research membership includes property characteristics, tenant and lease information, as well as transactions, ownership and debt information, with nationwide coverage across all commercial asset types, from office, retail and multifamily to industrial and medical properties, and even self-storage.
One Platform for Market Insights on Top of Property Research
As the one-stop commercial real estate resource, CommercialEdge property reports contain exhaustive property data sourced exclusively from trusted, official sources. That commitment to accuracy and a full-service experience goes beyond individual property reports – in fact, property reports are also a portal to highly valuable and up-to-date market insights, as well as lease and sale comparisons.
With Yardi Market Insight™, you gain access to real market conditions in the area of your interest. Easy-to-use filters and functions mean you can effortlessly set your search criteria and get an up-to-date snapshot of your targeted market, based on the latest lease and transaction information. From occupancy and lease spread insights to average rents, recoverables and active spaces with contact details, it's at your fingertips.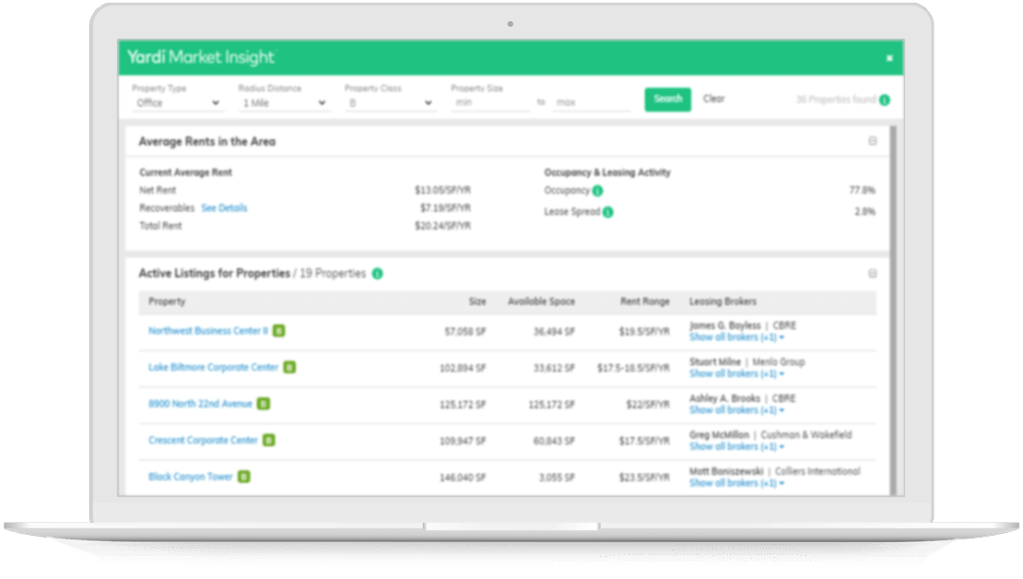 View comparisons of current rent rates and rent trends to benchmark against similar properties nearby. Leverage the largest and most accurate database in the real estate industry to gain insights on listings, rents, recoverables and occupancy. Uniquely, you are able to see true market insights from real leases in your target search.
One Platform for Reliable Sales Comps
Whether researching an optimal market price for listing an investment property or buying one, running reliable sales comps is essential. To answer this need, Edge Research combines reliability and convenience, allowing you to instantly run comps with a variety of filters and criteria. It also includes a built-in valuation feature that offers averages and estimates based on your comps search results: sale price range, median and average prices per square foot, as well as an estimated property valuation.
You can easily tweak the analysis in real time by changing search and filter parameters or by removing search results that may not fully address your needs or are not fully compatible with your property of reference and see the valuation dashboard adjust as you work.

One Platform for Reliable Lease Comps
Capitalize on nationwide listings data that is closely monitored for accuracy by dedicated listings teams. All commercial properties of at least 25,000 square feet in size undergo research validation by in-house data specialists. That property and listing data is regularly corrected and checked for accuracy, and includes property characteristics and specifications such as ownership or associated leasing agents, as well as tenant roster research that provides brokers with a starting point for leads and verified tenant data.
To ensure the highest degree of confidence, all original property research is tracked and documented extensively, with listing data obtained only from explicitly approved sources. These sources include strategic partnerships with high-profile marketing firms, networks and brokerages, as well as individual brokers.
The lease comps feature accessible through an Edge Research membership unlocks Yardi Market Insight ™ with the latest transaction data such as median starting rents, term ranges and lease averages, recoverables and more. This empowers you to stay in the know and ahead of the competition.
One Platform for All Brokers
Powered by a strategic partnership with TenantBase, CommercialEdge offers a dedicated space for tenant representatives to market clients' requirements and fast-track deals. Specifically, the Active Tenants feature enables tenants in the market and their representatives to list their commercial real estate needs when looking to move, expand or downsize.
An Edge Research membership grants access the Active Tenants feature, meaning that a commercial real estate broker with vacancies to fill can prospect the list of tenants actively looking for space, asses their needs and submit suitable listings for tenants' consideration straight from their portfolio of offerings.
Moreover, brokers also have the option to create digital tour books presenting listing specs in side-by-side comparison, as well a dedicated one-page summary for each listing.Save time and enhance the quality of your pitch with the CommercialEdge suite.
Unmatched Value Powered by Yardi
Clients using Yardi's industry-leading accounting software will benefit from exclusive connectivity with CommercialEdge with features such as the auto-flagging of vacant and available spaces, which can significantly shorten the deal cycle and increase earnings. Current Yardi Voyager® clients will have automatic access to the Deal Manager, directly in their CommercialEdge account.
For more information, reach us at [email protected].

Stay current with the latest market reports and CRE news:
More Articles You Might Like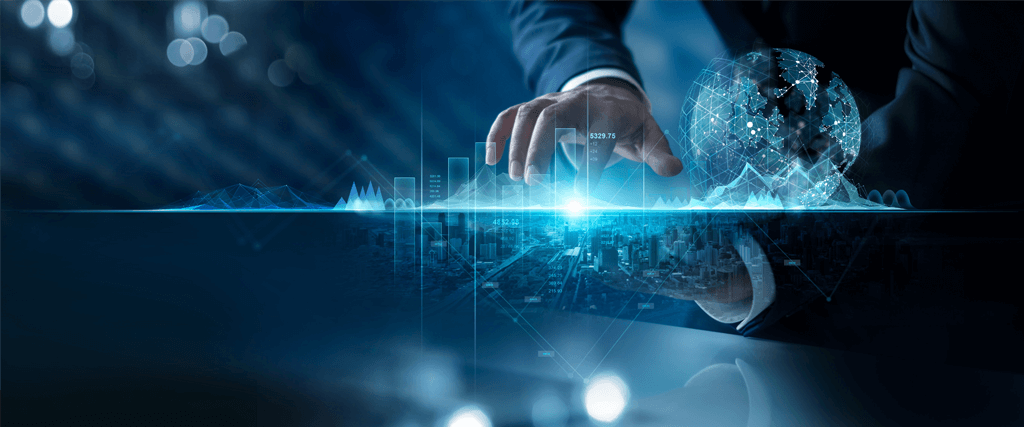 A data-driven approach and an accurate property database can provide a significant advantage in identifying investment opportunities.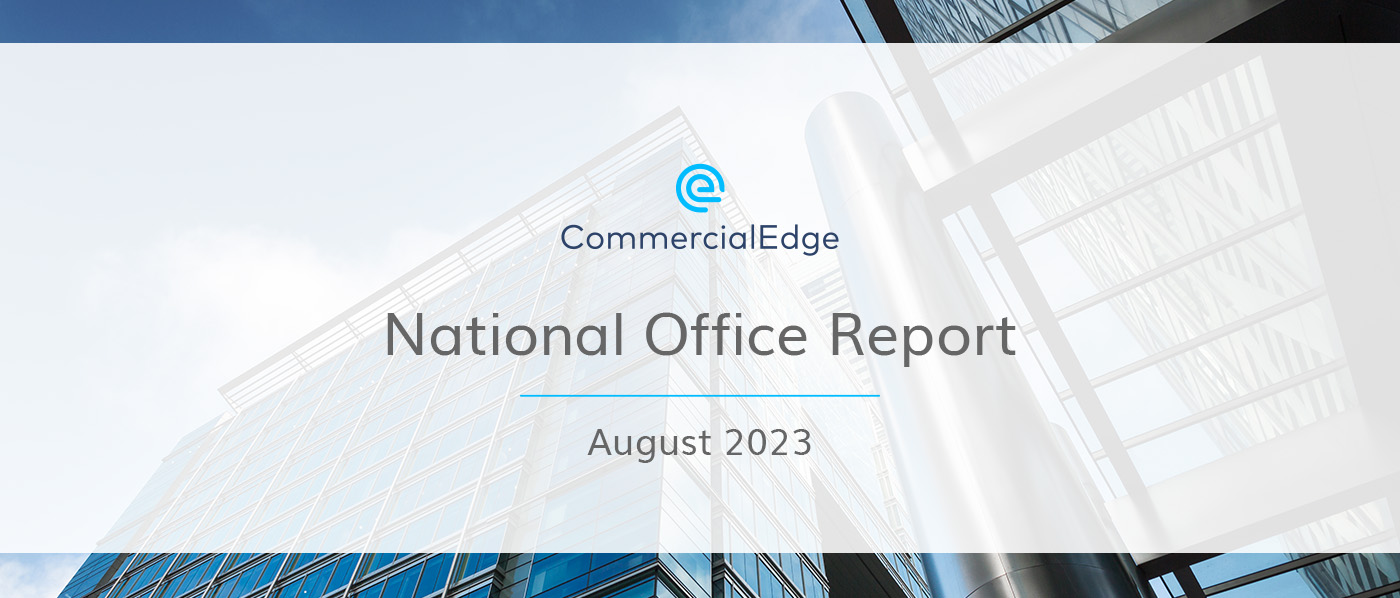 As office construction continues to cool, a quarter of under-construction office space is now concentrated in just 6 life-science-heavy markets.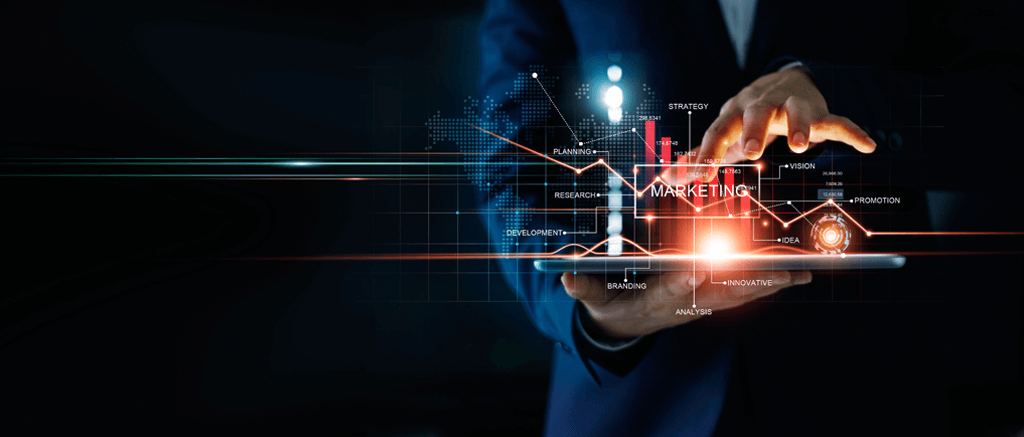 A clear marketing strategy and monitoring channels can result in quality leads, maximum occupancy rates and high return on investments.
The End-to-End CRE Solution
From marketing and research to deal management and commission payments, our tools enhance every facet of commercial real estate.